Surprise! Tamron Hall Is 32 Weeks Pregnant And Married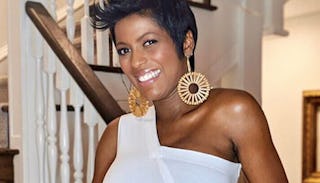 Image via Instagram/Tamron Hall
Tamron Hall has been up to a lot of stuff, most notably a baby, a husband, and a new talk show
Television journalist Tamron Hall has not been playing around recently. In addition to her busy career, she's apparently also taking leaps and bounds in her personal life, and now she's in a position to share her joy with the rest of the world. The 48-year-old TV personality announced on Twitter and Instagram that in addition to her new show, she's also having a baby, and with a new husband that she hasn't mentioned until now.
"I've wanted to share this news for many months and now finally my doctor has said I am in a safe place, at 32 weeks, to share my joy with y'all," she wrote.
"So, it's clear a daytime talk show isn't the only thing I've been trying to produce! There have been many tears, but today I embrace the smiles," she gushes. "My husband Steven and I are beyond excited! We're in constant prayer, so if you pray, add us to your list; if you meditate, send calmness our way; and if you believe in luck, we'll happily take that too. More to share in a few weeks when the baby arrives! Next chapter! Blessed and Grateful."
In addition to the announcement post, the talk show host and news anchor also posted an adorable video, where she sings "Baby Shark" and reveals her belly.
"Surprise guys," she says, with a huge smile on her face and absolutely glowing. "Can you believe it? I'm about to be a mommy shark!"
She mentions a husband named Steve in her post. He hasn't appeared, to our knowledge, in her social feeds before today, but we did get a little glimpse of him. And maybe we'll see more of him in the future, especially after baby arrives in a couple of months.
She also included a picture of herself showing off her baby bump in maybe the cutest bathing suit we have ever seen.
We maybe should have guessed something was going down when she appeared at the National CARES Mentoring Movement's For The Love Of Our Children Gala wearing a bright yellow pants suit that was very flowy in the tummy area – but no, we were completely taken by surprise.
A source told People that the former Today host couldn't be happier.
"Tamron is absolutely thrilled. This is a long-held dream for her, and to be honest, for a very long time she thought this wasn't in the cards for her," the source shared. "This journey has been a long one, and there were a ton of ups and downs and she's just so happy to finally be in a place to be able to share this news. This is truly the happiest time of her life."
Just days ago, Hall also announced her new talk show, which will be nationally syndicated by Disney starting on September 9. The show, simply called Tamron Hall, will also be produced by Hall along with Bill Geddie.
"When one door closes…another one opens," she wrote on Twitter about her new professional adventures.