Target Is Selling Adaptive Halloween Costumes For Kids With Disabilities
by Cassandra Stone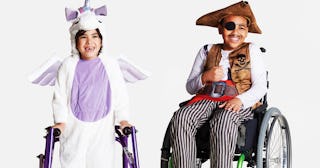 Courtesy of Target
Just another wonderful reason to spend our money at Target!
Target is getting a head start on the Halloween holiday this year (no complaints here) by sharing what customers can expect from the Hyde and Eek! Boutique. By far the coolest part of their Halloween options are the adaptive costume options for kids with disabilities and/or sensory issues. It's the brand's latest step toward inclusivity and awareness, and it's awesome.
"Based on the response to our Cat & Jack adaptive apparel and Pillowfort sensory-friendly home items, we know that design details can have a huge impact," a Target spokesperson tells Scary Mommy. "We're now bringing that spirit of inclusivity to our new Hyde and Eek! Boutique kids' adaptive Halloween costumes, which we hope will bring more ease and joy to our guests' everyday lives."
Currently, there are four different adaptive costumes, and they're totally adorable. First up, a very hip and timely plush shark costume (singing "doo doo doo doo doo doo" instead of saying "trick or treat" is optional).
Next, there's a pirate costume — also very cool this year, and also a classic costume choice. The optional wheelchair covers for this costume are a true work of art.
If you've got a princess-lover in your life, there's an amazing costume for them, too.
Oh, and the wheelchair covers? Yeah, just check these out. Even Cinderella herself would be jealous.
Keeping on with the trendy and adorable theme, the final adaptive costume Target is offering this year is the unicorn. Because really, who doesn't want to feel soft and snuggly on a chilly Halloween night? Plus it's super freaking cute, so there's that.
Back in 2017, Target offered its first series of adaptive clothing and sensory-friendly items through their popular line Cat & Jack (listen, if your kid's wardrobe doesn't consist of 80% Cat & Jack items, are you even really a parent?). Earlier this year, the brand came out with its first sensory-friendly furniture line, too.
What's truly great about offering adaptive clothing is that it makes the matter of getting kids dressed — which can feel like the equivalent of running a 5k when it's all said and done — simpler and more comfortable for anyone who can benefit from easier options.
All of their adaptive clothing items (costumes included) include thoughtful details like flat seams, no tags, and easier closures when needed. When Target was first developing the line, they met with kids to gain a better understanding of what would work best.
"Our team met with real kids to understand what their needs are in different types of apparel, then put our expertise to the test to create the products," Mari Anderson, the principal technical designer, said at the time. "Without a doubt, this has been the most meaningful project that I have been a part of."
This article was originally published on