Target Is Rolling Out Same-Day Delivery, Moms Everywhere Say 'Why?'
by Valerie Williams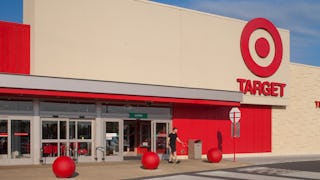 Image via YvanDube/Getty Images
Target to offer same-day delivery through Shipt
In 18 cities throughout the Southeast, moms are about to have one less fun reason to leave the house. Our mothership, Target, is now offering same-day delivery in select areas, and moms want to know one thing — why?
Look, we all know there are times when delivery of diapers, milk, and coffee (GOD yes please) would be helpful. For example: when the baby is sick or napping, when you're in no mood to put on a bra (though that's never stopped me from leaving the house) or you just don't feel like peopleing, it would be awfully nice to have a person in a red shirt arrive at your door with the goods.
But…but….but…TARGET.
The same-day delivery is happening through the delivery service Shipt, where you can grab a membership for $49/year (though it's about to go up to $99)
For anyone worried that this service could mean a loss of cashier jobs, this move means more than 4,000 jobs will soon be available for "shoppers" in the Southeast. And like, can I send in my resume? Professional Target Shopper is definitely a thing I could do pretty seamlessly. I have tons of relevant experience.
While this delivery service will be helpful and can certainly serve its purpose (hello, I'm currently buried in snow and not leaving the house this weekend would be nice) it's still literally the one errand so many of us actually look forward to. I may only need toothpaste and baby wipes, but you bet your ass I'm going to wander slowly down the throw pillow aisle, sniff a bunch of pretty candles, and pick up some new comfy pants.
Because time stops at Target. You can just stay as long as you like and nothing can hurt you.
OK, maybe that's bullshit. But I sure do feel untouchable as I happily push my red cart along, latte in hand, dicking around on my phone, looking at all the fun stuff I had no idea I needed, and all the while knowing I'm not responsible for any chaos currently happening in my own home. Target is my safe place. My home away from home where I don't have to pick up after anyone or locate a lost homework folder.
Delivery is cool and obviously the way of the future *winks at my eternal bae Amazon Prime*, but some things must remain sacred. Delivery can be an option, but Target at our doorsteps should only ever be a novelty — moms will always need that store as our escape hatch when life is just too much.
This article was originally published on