Recycle Your Old Car Seat At Target And Get A Discount On A New One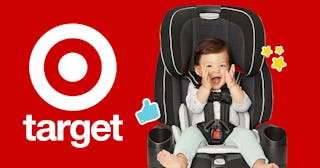 Target
Bring in your old car seat and you qualify for 20% off a new one
It's that special time of year — the annual Target car seat trade-in event! You can finally recycle that old car seat collecting dust in the garage and get a decent discount on a new one. Just bring in your old seat between Monday, April 5, 2021 through Saturday, April 17, 2021.
Because car seat safety regulations change so often, and are only usable if they've never been involved in an accident, it can be difficult figuring out a way to upcycle old ones. A lot of thrift stores don't even accept them and throwing them in the trash feels all kinds of wrong. Luckily, Target just keeps giving us reasons to stan — and the car seat trade-in event is definitely one of them.
Car seats are freaking expensive, right? They should be — it's a super important item to have for a little one. But knowing they can break the baby product bank a little bit makes us appreciate Target for always having their trade-in program so parents can nab a sweet discount for bringing in their old car seat. That's right — you can take in your old seat to a Target store for recycling and in return, receive a 20% off coupon toward a new car seat, car seat base, travel system, stroller or select baby home gear. Select baby home gear includes play yards, high chairs, swings, rockers and bouncers.
According to their press release, when you bring your car seat to trade, you'll get a coupon for 20 percent off a new car seat, stroller or select baby gear including play yards, high chairs, swings, rockers and bouncers. The coupon is valid through May 1, 2021.
So a few things — in order to participate in the program and receive the coupon, you need to be enrolled in Target Circle (which most of us moms are likely enrolled in already). The store is providing scan sheets at the drop-off boxes so shoppers can scan with their phones to get the discount into their Circle app. Another cool perk? If you are trading in two seats, you can redeem the offer twice.
You can use the coupon for both in-store and online purchases.
Target has held the car seat trade-in event yearly since April 2016. Through the program, Target has recycled 1,100,000 car seats, or more than 17 million pounds of plastic and counting — which is incredibly cool. Target will once again partner with Waste Management, which upcycles the used car seats into grocery carts, plastic buckets, construction materials and more.
Since the time children spend in car seats and boosters is at an all-time high due to what we know about safety, it's especially helpful to have an event like this where parents don't feel wasteful and get a good discount on an upgrade, the next model, or baby gear in general.
This article was originally published on