Target Launches New Rewards Program Because We Don't Spend Enough There Already
by Julie Scagell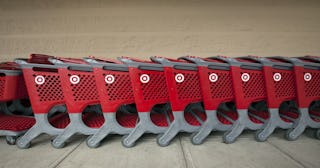 Getty/ Leif Skoogfors
Target Circle rolls out nationwide in October
As if we needed another reason to shop at Target. The retailer is rolling out nationwide what started as a beta program in just a few cities — and it's got some great benefits for shoppers and our local communities.
Beginning in October, the Minneapolis-based company is rolling out Target Circle, a free loyalty program offering customers the ability to earn cash back on purchases and supports local non-profits, Target officials announced Monday. "Our guests are at the center of everything we do, and we're always looking for ways to create even easier, more rewarding shopping experiences that give them another reason to choose Target," said Rick Gomez, Target's chief marketing and digital officer, in a press release.
Now for the details: Customers will earn 1 percent on every purchase to redeem on a future Target trip in stores or online, receive personalized perks including "surprises and savings" tailored to our profiles, and get early access to special sales throughout the year.
Target Circle also offers personal benefits like a birthday discount of 5 percent and allows customers to cast votes which will help Target decide where it gives back to approximately 800 nonprofits. Your earnings will continue to accrue until you decide to redeem them.
To earn the cash-back in stores, simply enter your phone number or scan your Wallet barcode in the Target app prior to paying. "You can also scan your receipt using the Target App or enter your receipt number at target.com/circle up to seven days after you check out, or sign in and purchase on www.target.com or in the Target app," their website states.
"The program has been incredibly successful, exceeding our expectations," Gomez said. "Over the last 18 months, more than 2 million guests have enrolled in Target Circle, completing more than 14 million transactions … spending more money at Target compared to guests who aren't enrolled in the program."
If you have a REDcard, there's good news and bad news. REDcard holders cannot take advantage of the 1 percent to redeem on a future date (but your 5 percent is still safe) unless you use another form of payment or use a gift card. You also can't receive the REDcard 5 percent instant savings and earn the Target Circle 1 percent in the same transaction, so if you have a gift card, you may want to think about splitting them into two purchases. BUT, every time you check out, REDcard earners will still get one vote to direct where Target gives in the community and will still receive the birthday surprise benefit.
REDcard holders will also be automatically signed up for the program. Don't have a REDcard? Simply download the Target app and go to the Accounts section or go online to target.com/circle.
"We see Target Circle as complementary to RedCard, our credit, and debit offering because it provides a wide range of benefits and is available to all guests regardless of whether they choose to have a RedCard," Gomez said.
Target also announced with the national expansion of Target Circle, they will be integrating the Cartwheel savings tool into Target Circle, rebranding its deals as "Target Circle offers."
The new program is a win-win for Target shoppers. It not only offers continued benefits to its customers but it also gives us the ability to help direct funding to our favorite charities. We know this is just one more way to earn our loyalty and to that we say — fine, take all our money.