Target Rolls Out New Hours And Shopping Times For The Elderly And Immune-Compromised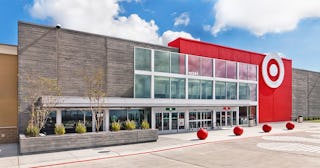 Target
As the coronavirus crisis intensifies, Target is taking steps to support customers and employees
While government-recommended self-isolation means going out dramatically less right now, many of us are still making the occasional Target run for necessities (or, at the very least, placing online orders). So, it's important to stay updated about the popular shopping stop's coronavirus response plan — and on Tuesday, Chairman and CEO Brian Cornell announced a few pressing updates you'll want to hear.
Now that we're all facing an indeterminate amount of social distancing time, it feels pertinent to stock up on supplies for hunkering down at home. Target understands. In fact, they're actively trying to avoid shutting their doors. "Every day, for weeks now, you've turned to Target to stock up on supplies as you cope with the impact of the coronavirus. As we all continue to adapt to the country's fast-changing needs, we want to make sure we're doing everything we can to keep our stores open and support our team," wrote Cornell.
Having said that, Target is rolling out a few salient changes.
"We'll reduce hours and close all stores by 9 p.m. daily. This will help us as we replenish and deeply clean our stores for our guests," Cornell explained. "And it builds on measures we shared earlier this month, including enhanced cleaning and more staffing for in-demand services that support social distancing, like Order Pickup and Drive Up."
In addition to reducing hours and increasing cleaning efforts, the company will also implement changes designed to protect the most vulnerable people in our communities, such as the elderly and those who are immunocompromised. To do so, Target will devote the first hour of shopping each Wednesday to those who fall under this umbrella.
Guests can also expect the store to continue expediting — and, to an extent, rationing — orders of necessities. Said Cornell, "We're fast-tracking the flow of products that are in highest demand, including food, medicine, and other essentials. We'll continue to maintain limitations on in-demand items and respectfully ask all guests to consider their immediate needs and purchase accordingly so more families can find the products they need."
Of course, the fact that Target will remain open and working so hard to meet guests' needs means an inherent level of added strain on employees. But according to Cornell, the company is also prioritizing the well-being of its workers. This includes measures such as back-up care benefit (whereby childcare will be available in the event of school and daycare closures), a temporary moratorium on the absenteeism policy, and pay during confirmed illness.
Target will also continue to offer its employees paid family leave and free counseling services to help deal with any additional challenges that may arise from this difficult period.
The company is the latest in a growing list of retailers shifting the way they run to accommodate safety recommendations. On Sunday, Wal-Mart announced it is reducing hours at its 24-hour locations. Amazon has streamlined remaining shipments to only medical supplies and necessities. And many retailers have decided to close all of their stores until further notice, including Sephora, Macy's, Bath & Body Works, Nordstrom, H&M, Victoria's Secret, Ralph Lauren, and Apple.