Target Is Selling Disney No-Carve Pumpkin Kits And We Want Them All
by Valerie Williams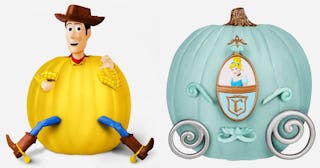 Target
Target's no-carve Disney pumpkin kits are a Halloween must-have
It might still be steamy summer, (hello, those of us in the south have many weeks of boob sweat left, save us) but Halloween approacheth and stores are already putting out the goods for this candy, costume, and gourd-focused holiday. It might be kind of annoying to have the end of summer seemingly rushed, but once you see these Disney no-carve pumpkin decorating kits, you'll want a PSL in one hand and your credit card in the other, because OMG. They're way too cute.
Naturally, this Halloween goodie can be found at Target, the place where we find basically all the things we need (and don't need). And before you pumpkin carving purists look at me funny, let's be real here — carving a jack o' lantern kind of sucks.
The novelty of going elbow-deep into a pit of cold, slimy pumpkin gust wears off pretty quick, y'all. Luckily, Target and our buds at Disney heard our prayers and came up with an adorable way to avoid the carving process altogether. They're only $10 and completely adorable. Check. These. Out.
First up is our cowboy buddy Woody and would you look at that — no pumpkin slop anywhere to be found. If you want to paint your pumpkin a coordinating color, by all means. But when it comes to dressing it up, all you need to do is push the pieces into the pumpkin. Done dinner.
Woody is far from the only choice you have. How about a Cinderella pumpkin? It totally fits with the whole coach thing. Color your big squash that gorgeous pale blue and you'll be in perfect princess form.
Not really the princess type? Do you like your Halloween chachkies a little on the spooky side? Check out sweet Vampirina, complete with her cute fingerless gloves.
RELATED: Woah, Vampirina! Sink Your Teeth Into The Best 8 Vampirina Toys For Monster-Loving Kids
If traditional Disney is more your speed, you can have both Mickey and Minnie gracing your autumn porch-scape this season. No carving Mousekatools required.
Last but certainly not least is this completely enchanting Sally Skellington set that is obviously Halloween-friendly without going anywhere near a pumpkin.
There. See? Jack o'lanterns easy as pie.
If you want to buy them all and have an entire Disney pumpkin crew adorning your doorstep, absolutely no one will judge. Pop these little guys into the gourds, grab a pumpkin pie cocktail, and revel in your non-goopy hands. You are officially a Halloween decor genius.
This article was originally published on