Target Cashier Made Famous For His Kindness Proves Karma Is Real
by Mike Julianelle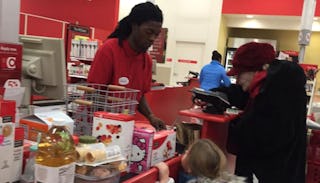 Image via Facebook
Target cashier's viral act of kindness results in a new gig
Remember Ishmael Gilbert? A few months ago, he attracted the internet's – and Scary Mommy's – attention when he displayed uncommon kindness and extraordinary patience with an elderly woman who attempted to pay for her purchases with coins. A mother waiting in line with her daughter noticed Ishmael's actions and shared a post on Facebook about how meaningful it was to see such behavior, especially as an example to kids. It quickly went viral.
Ishmael's exemplary customer service continued, even in the face of increasing recognition for it, and eventually, he was noticed again. And this time he got more than internet fame out of it. He got a new job.
Ishmael experienced his fifteen-minutes of fame, as people from outside of the area came to Target to say hello, shake his hand, and simply watch him work. Ishmael seems to find it a little sad that such kindness is rare enough these days that it can become a sensation, telling SuperSoul.tv in an interview after the post went viral, that it wasn't a big deal.
"I just treated her, really, like she was my grandma, to be honest," Gilbert says. "She's not the fastest, [but] I'm not going to huff and puff and make her feel even more frustrated. I just helped her out and actually seen a smile on her face. So, that was the best part about it."
Not anymore! According to The Huffington Post, a manager from a local dialysis center happened to witness Ishmael tending to another customer just as attentively as the exchange that went viral and liked what she saw.
"I was helping out, once again, another customer," Gilbert says. "[The dialysis center manager] saw me do the same thing also, and when she came to my line, she was like, 'Hey, I like what you just did with her. That's really good customer service.'"
The woman invited Ishmael to come in and interview for an open position working with patients at the dialysis center. He took her up on her offer, and after meeting with several other people and discussing his viral incident and how he approaches customer service, he landed a job at Fresenius Medical Care as a patient technician. He is now working toward becoming a certified hemodialysis technician, while the center pays for his education as he studies to become a registered nurse. And he's loving it.
"It's been going great," Gilbert says of his new job. "When blessings come my way, I say sometimes it's not always good to ask why. Sometimes, just take them as they come."
Viral fame is one thing, having your life changed is another. Gilbert is a 20-year-old father whose kindness, with a little assist from Facebook and the internet, has helped set him on the path to a bright future. We should all click LIKE on that.
This article was originally published on