Target Is Expanding Their Parental Leave And Child Care Employee Benefits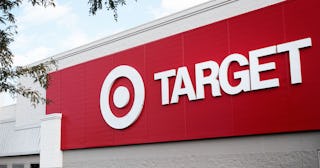 Scott Olson/Getty
Here's another good excuse to go to Target: they're increasing a ton of family-friendly employee benefits
If you need another good reason to wander around Target buying snacks and bras and lip gloss, we have a good one for you. Our favorite place on earth — and the tenth biggest employer in the nation — just announced that they will be expanding family care benefits for both their full-time and part-time employees.
"Our team members are at the heart of Target's success, so supporting what's near and dear to their hearts—their families—is of the utmost importance," Target said in a statement on their website. "Our workforce, like the communities we serve, is multigenerational, and our team members face growing caregiving responsibilities including infants, children, spouses, domestic partners and aging parents."
This is exactly what families need: employers who understand that we have lives outside of our jobs, and that sometimes we need extra support from work so that we can kick butt to the best possible degree.
What do the expanded family care benefits look like?
First, they are expanding their backup family care program, which originally started at the company's headquarters, but will now be extended much further. Both full-time and part-time employees will have access to 20 days total of affordable in-center childcare or in-home child- and eldercare.
"Picture this: You're about to leave for work, but suddenly, school or daycare is closed, a sitter or eldercare provider gets sick. With our new backup care benefit, team members can rest assured that their loved ones have safe, affordable, reliable care while they're at work," the statement says. "A gap or unexpected childcare need is incredibly stressful and can be a big, distracting and unplanned scramble in your day. Knowing Target provides backup care at an affordable price gives our family such peace of mind when situations come up."
Next, employees also will receive double the amount of paid time off to care for their newest family member, on top of the medical leave a team member receives after giving birth to a baby. Extended family time off could be in relation to a birth, an adoption, foster placement, serious illness, or ailing elder relative.
Finally, they are also doubling the amount they will pay for adoption or surrogacy fees.
This move follows a pledge that they made just months ago to increase the minimum wage of all of their workers to $15/hour. They increased rates from $12 to $13 in April, and plan to get everyone who works for them to $15/hour by 2020.
It's a move to increase their employee loyalty in a tight job market, but also shows that they really care and are doing their best to support the people who work for them — especially in comparison to competitors like Wal-Mart.
"We've taken a strong position on minimum starting wages, but that's just one facet of our team member experience," says Melissa Kremer, chief human resources (HR) officer. "Our team finds so much support here to grow their skills and careers, make a difference in their communities, and take care of themselves and their families—including benefits that we're enhancing to be more relevant across a breadth of life stages."
This news is so good that we're not even made anymore that it's literally impossible to just buy one thing at Target.
And let's not forget that Target has also done a ton of other progressive, family-friendly things that makes it our favorite place to shop for things we didn't even know we needed. Even in the last year, they've announced an amazing car seat exchange and recycling program, released a great sensory-friendly line of kids' furniture, and reduced prices on school supplies for teachers.
We'll be waiting in the car with the engine running.