Target's Selling Harry Potter Sorting Hats That Sing, And You Need One STAT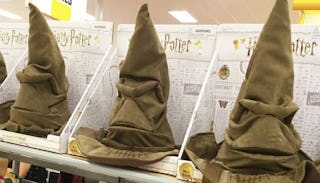 Image via Instagram/OhTarget
Target is selling Harry Potter sorting hats and they actually look very legit
We may have never gotten our Hogwarts acceptance letters (not bitter at ALL about that) but there's officially one Harry Potter wizarding ritual we can all participate in. Target is selling sorting hats that talk, move, and genuinely look like the real deal. Now all we have to do is frantically pray not Slytherin, not Slytherin.
The Instagram account OhTarget recently spotted the new line of sorting hats and snapped a picture. They noted that the hats sing, dance, and ring in at $24.99. This would make an excellent gift for kids…and would also maybe be fun to try out in the privacy of your own bedroom (the BuzzFeed sorting hat quiz just never felt accurate enough).
https://www.instagram.com/p/Bl9Z5hsj2c-/?utm_source=ig_embed&utm_campaign=embed_loading_state_control
Unfortunately, this particular line of sorting hats is only available in stores. If you want to purchase some wizarding merch online, head to Target's website where you can find a regular ol' sorting hat without any singing or dancing abilities. Not quite as exciting but still fun. Professor McGonagall would definitely approve.
That's just the beginning of the discount store's Harry Potter swag collection. And I'm not just talking capes and fake glasses here. You can literally buy the Triwizard Cup for $24.99 (R.I.P Cedric).
There's also a lamp shaped like the Deathly Hollows symbol which is both cute and an unsettling reminder of how completely stressful the seventh book was.
And why yes, I will take both this Hedwig-shaped throw pillow and these Hedwig-shaped bookends.
Are you already feeling more magical? Have you mentally begun to sort yourself into whichever house you think would be the best fit? I certainly hope so.
Here's to a summer filled with owls, sorting hats, and lots of wizarding magic. Hopefully your Gringotts bank account will forgive you.
This article was originally published on