It's A New Day: Target's New Women's Clothing Line Does Not Disappoint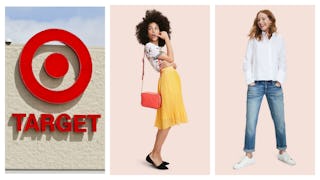 Shutterstock Target.com
I know we are all mourning the fact Target kicked some of our favorite labels like Merona and Mossimo to the curb. Those inexpensive T-shirts and leggings took many of us through all of our pregnancies and beyond. If something got torn or stained, you never stressed because there was always a fresh table of goodies waiting for you on your next trip. The cherry on top was you knew you weren't going to break the bank.
I know, I've cried about it, too, but now I'm totally over it. Because Target has a new clothing brand in town, A New Day, and it will zap any lingering feelings of longing you were having about those old brands. After all, there is nothing like a new, even better looking lover to mend a broken heart.
A New Day offers menswear-inspired pieces, flirty skirts, comfy pants, dresses, blazers, and plenty of the soft T-shirts we all love. I mean, Merona who?
According to the Wall Street Journal, Target realizes their customers want to feel like they are at a boutique without the hefty price point. "People are looking for something that is more curated and meaningful to their specific lifestyle," said Mark Tritton, Target's chief merchandising officer.
As soon as I started fondling the cute dresses and tops on a shopping spree with my sister and our daughters, I knew I was a goner. I literally got weak in the knees after trying on this perfect dress. It wasn't clingy, nor did it make me look like I was wearing a potato sack. I legit felt like I was sporting a nightgown.
Pull your hair up in a messy bun and throw on a heel, flip-flops, or your favorite bootie. Totally slammin' over skinny jeans or leggings, too. It leaves you looking like you put way more effort into your appearance than you actually did. What more could we ask for?
I can't even talk about this shirt dress. Seriously, I'll wear a men's shirt all day with my favorite Converse while I run around doing all the things moms are expected to do. I mean, no waistband that cuts into me when I sit down? Yes, please.
While we are talking about waistbands, just look at these pants. They are tailored yet flowy, and the tie detail in the front is so flattering and cute, how can you pass them up? They are the perfect thing to dress up your favorite vintage T-shirts, sweatshirts, or flannel button-downs.
And look, you don't have to miss your old Merona T-shirts at all because these are even better and have the same price point. A New Day doesn't disappoint with their selection of long sleeve T-shirts which come in 11 colors, and short sleeve T-shirts which come in 9 colors. All soft and comfy as ever.
And my favorite part? Nothing is over $50. That includes the jackets. Listen, we all know the difference between want and need, and we all need this jacket for fall. It looks fantastic with sneakers, rain boots, or a sleek pump (if you're feeling fancy).
All the pieces mix and match; there literally isn't one piece you can't pair with another. This line kills it no matter the occasion, from weddings to the carpool line.
So ladies, what are you waiting for? Leave the kids home and treat yourself.
This article was originally published on