Almost Everything In Target's New 'Essentials' Line Is Under $2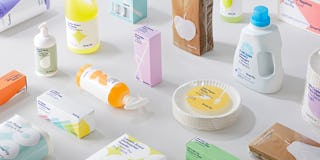 Image via Target
Smartly is an affordable new line of household and personal products from Target
Target is already our favorite place, but now the retail giant is working on saving us all some serious cash with its new line of cute household products. The best part is that most of the items have an incredible price point — just $2.
Target described its new line of home and personal care products as "effective, stylish, and unbelievably affordable." On the stylish claim, they're absolutely not kidding. This stuff is freaking adorable.
Only Target could make shaving cream and hand soap so appealing and cute.
The line of items was made for the shopper who is "budget-conscious and space-constrained," the retail company said. Now, when you're strolling the aisles of Target (or scrolling Target.com's web pages), you'll find more than 70 every-day essentials from Smartly. Grab body lotion, razor blades, and hand soap for your bathroom and all-purpose cleaner, sandwich bags, and paper plates for your kitchen. Smartly products start at $0.59 and go to $11.99, but most items will cost less than $2 — music to a budget-conscious parent's ears.
"Where we see white space and an opportunity to bring Target's guests something differentiated, we'll go for it," explained Mark Tritton, Target's executive vice president and chief merchandising officer. "The introduction of Smartly to our owned brand portfolio is another example of how we are listening to consumers and bringing them differentiated solutions to make their lives easier. Smartly is affordable, looks great and most importantly, gets the job done."
We're sure the new line will save busy parents a lot of time and money. We've all driven to three different stores because one has laundry detergent at half the price while another provides napkins at a lower cost. But with Smartly, shoppers can feel confident about grabbing their household essentials at a great price. "Smartly products cost approximately 70 percent less than similar products from national brands," Target explained.
Another big reason Target priced its items at great prices was to help consumers who'd like to take advantage of bulk pricing but don't have enough space to store an endless amount of toilet paper or toothpaste. "With products sold as single items and offered in small multi-packs (like a four-pack of toilet paper for $0.99), it's not only perfect for value-conscious guests, but for guests living in small spaces without ample storage," Target shared.
Smartly items have fun, modern packaging and even special scents. The product development team "worked with master perfumers to develop fragrances like Blossom, Citrus Grove, and Rain Shower, to ensure that Target guests can be proud to use and display Smartly products in their homes," the company said.
You can pick up Smartly products in-store and online starting Oct. 14.
This article was originally published on