Your Whole Family Is Going To Want Target's '12 Days of Socks' For Christmas
by Christina Marfice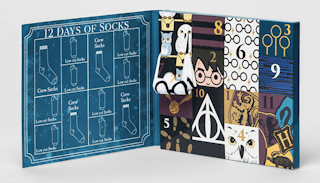 Image via Target
Socks are always the best gift idea
Christmas shopping really doesn't need to be all that stressful, because we have the perfect gift for literally anyone: socks. Think about it. Everyone needs, wants and loves socks. The person who already has everything? They still need socks. I remember getting a box of socks from my mom at my high school graduation party and being stoked — it was the gift I told everyone about. Socks are the perfect gift; they're practical and useful, yet fun. You can't go wrong.
And Target just made socks even better. Our favorite department store has a number of sock box sets with all kinds of themes available for the holidays this year, so they're sure to offer something that will appeal to every person on your shopping list. Each set of "12 Days of Socks" includes just that: 12 pairs that you get to open for 12 days beginning on Dec. 25 — one for each of the 12 Days of Christmas. Each set retails for $15, so you're getting 12 pairs at just over a buck apiece. It's a great gift and a great deal. Bless you, Target.
The themes range from generic holiday to pop culture styles. There's a women's Disney set, which features Mickey, Maleficent, Belle, Simba and other characters, as well as some cute Disney lyric designs, in both ankle and crew cuts.
For kids who want to match Mom, there's, of course, a Disney set for them, too, featuring just about every Disney princess we can think of.
This Star Wars kids set will keep little ones' toes warm in style, with designs featuring Chewie, R2D2, Darth Vader and more.
The DC Comics set tosses some knee socks into the mix, because who doesn't need a pair of Wonder Woman knee socks?
And we're sure the Harry Potter set will be popular, because, like a certain Albus Dumbledore once said, "One can never have enough socks." This set includes enough of them to free 24 house elves, so it's a good start, at least.
For those who aren't into the pop culture themes, or just want a more festive, holiday appropriate pair of socks, there are also some more generic boxes — two sets of Christmas themed toddler socks, emblazoned with cute Santas, reindeer and gingerbread men, a similar set for grownups, and a set decorated with cute forest animals in winter scenes.
The only downside is that these gifts are so cute and perfect, they're probably going to be massively popular, so maybe order yours sooner rather than later. And then kick back and relax knowing that your holiday shopping is already on point.
This article was originally published on