Target's New Gender Neutral Kids' Collection Is Way Too Cute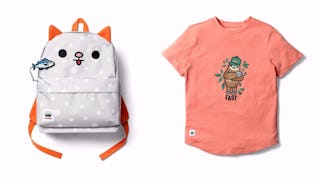 Image via Toca Boca
Shut up and take our money
You might remember our beloved Target broke the news last week that they're discontinuing some of their anchor brands including Merona and Mossimo (may they rest in peace), but they may be back in our good graces after their latest announcement. The retail giant will now be carrying an adorable line of children's clothing and accessories – and it includes some awesome gender neutral options.
Target is exclusively carrying the Toca Boca line of playful apparel and accessories just in time for the back-to-school season. The line, a first for the company, will be a collection of consumer products for kids including apparel, accessories, sleepwear, backpacks, lunch bags, bedding and activity books.
Toca Boca believes in values like diversity and inclusivity, and this line is no exception. In addition to their gender neutral apps (there are now 38), they decided to include pieces in their collection with neutrality in mind. Parents have long found limited options when our girls like pink and purple – and also dinosaurs and pirates. And boys' options are usually limited to the standard blue, brown, and green. This isn't the first time the store began selling items for children that don't categorize themselves into strictly "girl" or "boy" designs. They began carrying a line of gender neutral children's bedding by Pillowfort earlier this year.
Colors, as well as imagery like firetrucks, tool belts, glitter and guitars belong to everyone, regardless of their gender. Kids should be able to choose what speaks to them rather than being limited to what gender-specific clothing is carried in their section of stores. Some girls like bugs and some boys (like my son) love the color pink. Kids should be able to wear what makes them happy, end of story.
Toca Boca is known for its digital toys and this line brings the silly and quirky elements from their award-winning Toca Life digital toy series to real life. "Everything we make at Toca Boca is designed for all kids; it's our mission to make sure no kid ever feels excluded by Toca Boca," Head of Consumer Products for Toca Boca Mathilda Engman said in a press release.
"True to those values the collection was designed with inclusivity in mind, and we are so excited to see it will be merchandised together as a collection sitting between the boys and girls aisle of many Target stores." Though some of their items are tailored more towards one sex or another, there are plenty of gender neutral options to choose from.
The adorable collection hits Target stores and will be online starting July 17. The apparel will be carried in sizes four to 16, so mark your calendars!
This article was originally published on