Target's Selling A Full-Size Turkey Suit For Thanksgiving Because YOLO
by Kristine Cannon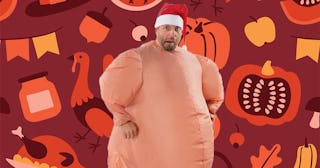 Target/Kseniya Ozornina/iStock/Getty Images Plus
Yes, you can buy an inflatable turkey costume at Target just in time for Thanksgiving — but it isn't the only one
Ah, November: Some view it as a stressful month, one where you're painstakingly planning the perfect Thanksgiving dinner or Friendsgiving soiree. Questions like "Am I missing anyone from the guest list? Is the menu just right? Oh my God, do I have enough vegan options?!" plague your mind as you reach for your CBD tincture. Others, on the other hand, see November as a glorious time of the year, one during which you spend days — and for the leftovers-dedicated — an entire week shoving your face with turkey, stuffing, and all the other Thanksgiving-appropriate fixings. These are also the same people who would actually purchase this inflatable turkey costume found at Target.
"Hold the gravy!" the Target product description states. "Gobble this costume up. It's the perfect costume for the holiday season. Get plump and juicy in this festive Inflatable Christmas Roast Turkey Costume."
Yes, this costume actually exists. And yes, it's actually $80.99. And no, it's not the only inflatable costume Target sells online. There's the Jurassic World inflatable T-Rex if that's more your thing. Or, why not ride this inflatable, cross-eyed gorilla costume? Or — and it's not an inflatable, but — really go for it with this one-size-fits-all turkey costume made out of polyester.
Anyway, let's turn our attention back to the roasted-turkey inflatable costume.
Sure, this costume may be obnoxious AF and will likely take up two seats at the table. But there are actually plenty of reasons to slip into this hideous, flesh-colored costume. For starters, three words: no sucking in. That's right, you can eat as much as you want and let the gut out. No restrictions means going in for that third slice of pie. And, second, you'll not only get a few laughs with this get-up, but it'll also help break the ice and ease any sort of tension between family members who haven't seen one another in a while. Evade the questions about your personal life by distracting guests with the costume: Genius!
The downside to wearing this? Well, we were originally going to bring up the fact that this costume looks like a sauna, trapping the meat sweats-induced heat coming off your body. But, good news! This costume comes with fans and a battery pack. Score! But that doesn't mean this costume isn't without its flaws. Aside from the fact that it's horribly unattractive and obnoxious, how are you going to use the bathroom? Yeah, good luck with that.
This article was originally published on