Taylor Swift Slams 'Ginny & Georgia' For 'Deeply Sexist' Joke About Her Love Life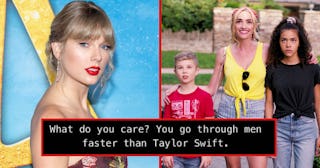 Roy Rochlin/Getty and Netflix
Netflix series "Ginny & Georgia" makes misogynistic joke about Taylor Swift and the star is NOT having it
It's 2021 and if there's one thing women aren't here for any longer it's sexist, stupid, cheap, lazy jokes that no one would dare apply to a man. I mean, we never were here for them but after watching Framing Britney it's become pretty clear that even 10-20 years ago, society found it fully acceptable to make misogynistic jokes about women. Our progress since then means that we notice right away when something sus is going on, hence, Taylor Swift's absolutely understandable slam against Netflix's Ginny & Georgia for their terrible joke about her love life.
Fans were understandably pissed when the show made a reference to Swift's dating habits in a recent episode but the star herself spoke up this morning and you guys, she's not messing around. "Hey Ginny & Georgia, 2010 called and it wants its lazy, deeply sexist joke back. How about we stop degrading hard working women by defining this horse shit as FuNnY," she tweets.
For a little context — in the show's Season 1 finale, Georgia (Brianne Howey) and her daughter Ginny (Antonia Gentry) got into a fight, eliciting a Swift-focused jab from Ginny when Georgia comments on her daughter's relationship status: "What do you care? You go through men faster than Taylor Swift." Swift included a screen grab of the comment in her tweet.
Swift also took the opportunity to point out that the joke is in particularly poor taste after their documentary about her last year, Miss Americana. "Also, @netflix after Miss Americana this outfit doesn't look cute on you. Happy Women's History Month I guess."
Miss Americana followed a year of Swift's career after she bounced back from some pretty awful public criticism. The doc also touched on sexism and misogyny in the music industry and the media's garbage portrayal of Swift's love life. So… it's kind of interesting that a Netflix show would make such a careless joke about it.
Swifties and the internet in general were obviously not here for it either and took their fury to social media with a quickness.
The thing is, these terrible jokes simply aren't made about male stars who have a series of dating partners. No one thinks much of it if a young, good-looking, famous guy dates around a little. But if a celebrity woman is connected to a few men in a row? Here come the stupid jokes that Swift herself has acknowledged in her song lyrics, like in her 2014 hit "Shake It Off." John Mayer or whatever generic male celeb dates several women in quick succession and he'll probably be covered breathlessly by the media in a way that suggests he's accomplished something. A young, talented, beautiful, wealthy, incredibly famous woman dates a few guys? Hold the presses — must slut-shame. Eye rolls forever.
It's 2021 and we know better — so we should do better. Networks and TV shows included.
This article was originally published on