This Mom's Taylor Swift Parody Is Guaranteed To Make You Laugh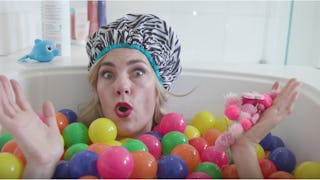 MyLifeSuckers
Love it or hate it, at this point you're probably familiar with Taylor Swift's "Look What You Made Me Do," the first lead single for her upcoming album Reputation.
Well, its mom parody will have you cry-laughing.
Deva Dalporto of MyLifeSuckers, who has parodied other hits such as "Despacito" and "That's What I Like," has done it again. She says she got more requests to parody this video than she'd ever received before.
"The minute Taylor Swift put out her video, I got tons of requests asking me to do it. I got messages from followers and other bloggers with awesome lines and ideas," said Dalporto. "The original is such an amazing, insane video, it was perfect to parody. It was the first time I've put on a pair of fishnet stockings in forever."
And she doesn't disappoint (with the parody or the fishnets). Her hilarious parody of Swift's song has been viewed over half a million times.
Take the iconic scene in Swift's video, for example, where she says, "I'm sorry, the old Taylor can't come to the phone right now. Why? Oh, 'cause she's dead!"
Dalporto's version changes the lyrics to something every mom can relate to: "I'm sorry, I can't come to the phone right now. Why? BECAUSE I HAVE KIDS."
There are a ton of great lines in this one, but I don't want to ruin it for you. You'll just have to watch it for yourself:
There's also a behind-the-scenes video that includes some fun extras and bloopers from the shoot.
You can find more from Deva Dalporto at MyLifeSuckers.com.
This article was originally published on