This Is My Biggest Fear About Raising A Son As A Single Mom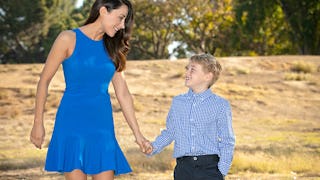 Simona Grace
I spent Thanksgiving day with my son much like the year that is now almost behind us. In togetherness and in solitude. The month between Thanksgiving and Christmas can be a difficult time to face when your identity and belonging does not resemble the 4.5 people smiling back at you on the annual holiday card.
I am a single mother of a boy, and I am worried about raising a son in the world we live in today. I have witnessed our society shift radically and without much forewarning in the past few years and I am not quite sure where we are headed.
My son learned at a young age that the value and worth of a woman is the same as a man. He has the perseverance of a single mother who independently provides for him and the love of a parent who emotionally sustains him. What he doesn't have is the slightest idea of what a good man looks like.
The #MeToo movement amplified the voices we needed to hear, it also made us aware of the reality we live in today—these are the times of toxic masculinity. Our boys are looking for a way out and a path to navigate their transition from being boys to becoming the good men of tomorrow.
I wish that we could look at our recent advancements in feminism as an inspiration for boys to begin a conversation about decency and what it means to be a good man during a time when all of us feel the need to be united.
It has become more and more difficult in our society today to decipher what it even means to be a good man. What do boys think is expected of them today? What do they think it means to be a boy growing up during these times? Whom do they look up to when sexual abuse allegations are rampant amongst men holding the highest offices of our nation? These are the question we ought to be asking ourselves because we do not have the answers.
My earliest recollection of the holidays and expressions of toxic masculinity coalesce in my mind as an indistinguishable, yet vivid memory. I can still recall the tree falling, the shattered lights on the floor spread out in their holiday splendor and a violent, physical attack on my mother and grandmother. My father left us that night. My grandmother landed in the hospital with a few broken ribs and my mother became a single mother, as well a survivor of domestic violence.
It was unimaginable at that time in a Communist Eastern European country for any woman to speak up. I never had a father as a role model, yet I was fortunate to grow up in the loving home of my grandparents after the events of that ominous Christmas eve. My grandfather was a good man. He was dashingly handsome with a full head of white hair, deep blue eyes, and the work ethic of someone who experienced the hardship of World War II. He was a dedicated partner to my grandmother and he put the needs of others before his own.
We owe it to the next generation of boys to the mend the brokenness and division amongst us, because this sense of divisiveness spreads the confusion and isolation which have become the accepted norms in our country. The #MeToo movement created a framework and afforded a louder voice for women to propagate change and to bring about forward motion for womanhood.
We need the same for boys. We have showed them what is broken and what is unacceptable behavior, but we have not put them on a path toward transformation. For men and women to be equal allies in our society, all of us must participate in our social discourse in a constructive manner.
My son is looking for his role in the world and I want him to believe that there is a place for him where kindness is expected, equality is a given, and shared experiences matter. There is a void of positive role models amidst the loud echo of men representing a narrow form of existence defined by power, aggression, and violence against women.
I know that there are still a few good men out there making a change, championing for social justice and leading by example and we need them to come forward. I wish to see more positive role models representing a broader form of manhood characterized by decency, kindness and equality. For our boys to navigate their transition to manhood, they need to reconstruct a positive image of masculinity. Our boys need to see the good men of today to become the good men of the next generation.
My grown up Christmas wish may be a tall order and not something that we can attain tomorrow, but there is much that we can do in our every day lives to support one another.
I spent my Thanksgiving alone with my son, though it would have been nice to have a good neighbor, a friend or grandfather to stop by. We don't need to start a movement to contribute. You can simply show up to dinner. You would be surprised to know how much it does matter when someone else clears the table.
This article was originally published on