Santa Isn't White At Our House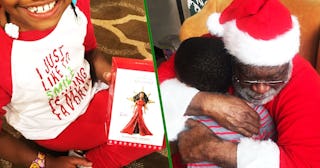 Courtesy of Rachel Garlinghouse
"But the real Santa is white," I overhear an adult say. Two of my kids and I are standing in front of a Christmas décor aisle. I look over to see an adult and child having a conversation, and I can't help but roll my eyes. Of course, I'm not going to be a jerk and blurt out that first of all, Santa isn't freaking real. I'm not going to dash the child's Christmas dreams. However, I'm inwardly fuming.
Whether you call him Jolly ol' St. Nick, Kris Kringle, Father Christmas, Pere Noel, or something else, I'm not here for the Santa-can-only-be-white nonsense.
This certainly isn't the first time—nor will it be the last—that someone insists that Santa is, or was, a jolly old white guy with twinkling blue eyes and rosy cheeks. And listen, I get it. I grew up with white Santa. I remember the Coca-Cola commercials featuring "classic" Santa—the same Santa perched on a velvet throne at our local mall. And in every old school favorite Christmas film, from Miracle on 34th Street, The Santa Clause, Elf, and Home Alone—all the Santas are seriously lacking melanin. Instead, they are—pun intended—cookie cutter.
I didn't give the possibility of a darker-skinned Santa any thought until 11 years ago when our first child was born. We adopted her at birth, and she was a five-pound black girl with a full afro, medium brown skin, and coffee-colored eyes. A friend of mine—and fellow adoptive mom—donated her ornament collection to me.
That first Christmas, I decorated our tree with 20 gifted ornaments—all depicting Santa, angels, and children as melanin-rich. I remember feeling incredibly joyful, knowing our daughter would grow up knowing that Santa could look like her. I never wanted her to feel that she could only believe in the magic of the holiday if she celebrated a white Santa—a Santa who looked absolutely nothing like her.
Over the past decade, we've collected dozens of Santas, angels, nativities, and more that feature brown-skin, natural hair, and brown eyes. And not only do we pick up a few new ones every year, but friends and family take every opportunity to find brown-skinned décor for our family—in solidarity.
Every December, we take our four kids to visit a Black Santa—snapping dozens of photos—and observing the joy on their faces when they see him make his grand entrance. Santa isn't just anyone. He's an iconic, joyful, magical celebrity among kids. The most beautiful moment, every year, is when one of the kids says, "Santa is brown like me."
That joy shouldn't be limited to my kids—just because they share the same race as the Santa we choose to celebrate. Society is becoming increasingly diverse—which means all of our children can benefit from Santa diversity.
I'm well aware that, to some, my giddiness over black Santa is ridiculous. I've heard clapbacks on repeat every Christmas season. Can't we just let Santa be Santa? Why change tradition? Must everything be about political correctness?
These arguments come from white privilege—the belief and everyday manifestations that everything is about whiteness. As a white woman, I see it all the time. I'm so used to being centralized, with all else falling outside the norm. The belief that Santa must be white is also steeped in white fragility. A change would simply shake things up too much—and that's uncomfortable. So, change is resisted.
Until I became a mom, the only person of color I ever saw represented in Christmas décor was the brown-ish wiseman—one of three—in the nativity scenes. That was it. He was a sidekick—the token diversity figure among a sea of blondes. He would stand solemnly near the manger, his hands folded in reverence, and his brown eyes cast down to the nearly translucent baby Jesus.
Hold on to your jingle bells, because historians tell us that Jesus and company had some melanin in their skin. Once again, for the people in the back: Jesus was not white. I sure hope I'm not the first person to share this with you, but in case I am, you might look at those glowing-white Jesus portraits a little differently this holiday season.
Now that I'm a mom in a multiracial family–I can imagine how people of color have felt their entire lives, their representation being relegated to that one guy in the nativity scene. When, in fact, they should have been represented in every single nativity figurine. And they should be represented in Santa, too.
I am thankful to see that gradual changes are being made among Christmas merch. This year alone, I found multiple black Santas at my local Target—gleefully snapping photos of every single item to share with my social media followers, most of whom have multiracial families. I found wrapping paper, a throw pillow, cards, ornaments, gift bags, and a pitcher. I had to force myself not to drop $250—selecting only a few items to add to our already abundant holiday collection.
Side-by-side on many store shelves are figurines of black and white Santas and angel tree toppers. Many malls across the country have both black and white Santas available for visits and photos. Nativity scenes are diversifying, too. Finally.
It's about time that parents themselves embrace that change and inclusivity are a good thing. And then teach their children that it's okay that Santa doesn't have to look a certain way to be legit-amazing. And most of all, don't bah-humbug our melanin-rich Christmas vibes. 'Tis the season to not be a jerk.
This article was originally published on