Teacher To Teen: 'Plus Size Women Need To Dress Accordingly'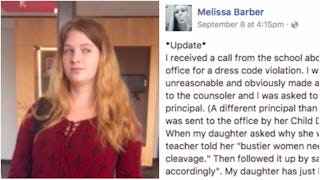 Image via Facebook/Melissa Barber
The high school senior says her teacher embarrassed her with alleged inappropriate remarks
Another day, another high school girl's learning disrupted by an alleged dress code violation. This time, a teacher allegedly made body-shaming remarks about a student's attire, embarrassing her in front of the class. Her mother got involved and has hired an attorney to represent them.
Melissa Barber posted a photo on Facebook of her 17-year-old daughter, Kelsey Anderson, a senior at Joplin High School, in the outfit that allegedly got her sent to the school office for a dress code violation. The Missouri mom also shared shaming and inappropriate comments allegedly made by Anderson's teacher before the teen was told to see the principal.
She writes, "She was sent to the office by her Child Development teacher Mrs. Morris. When my daughter asked why she was being sent to the office, this teacher told her 'bustier women need to wear clothing that cover their cleavage.' Then followed it up by saying 'Plus size women need to dress accordingly.'"
Barber met with school officials, whom she claims defended Morris with the principal telling her, "Well, we have never had a problem with her before."
She writes, "I began explaining that my daughter was just sexualized by her teacher in front of the whole class. She was embarrassed and horrified. She requested to be removed from the teachers class. He said no. He continued to defend the teacher. I could see we were getting nowhere."
Barber and Anderson left the school and have since hired an attorney, Elizabeth Turner. In a statement Turner released to Scary Mommy, Anderson says, "I was mortified by my teacher, of all people, saying something like this in front of my class. When I was pulled into a meeting with the Principal, he told me that he had never heard of me being victimized before and he didn't really believe what I said."
In hiring Turner, Barber is hoping to get the school to accommodate her daughter's wish to be placed in another class with a different teacher. "I just don't want any other girls to go through what I've been through and treated how I've been treated," says Anderson in the statement. "I asked to be accommodated so I don't have to go back to her class, but I was told no."
In the end, Barber's concern is her daughter's education — and the fact that a shirt allegedly put it on hold. In an interview with KOAM Fox 14, Anderson says she hasn't returned to school since the incident almost a week ago.
Barber ends her Facebook post making that exact point. "This whole time she was missing out on an education while we were all sitting in a room discussing her boobs. How often does this happen to your sons? Seems like another way to keep girls uneducated."
This article was originally published on