This Teacher And His Students Just Won The Internet With An Epic Viral Dance Video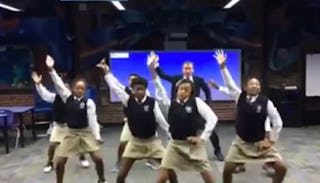 This teacher-student #DoItLikeMeChallenge video is the best thing you'll see this week.
It's only the first week of 2016, but we already have a major contender for teacher of the year. It's Georgia math teacher Ron Clark, who posted a video this week of him and his students dancing for rapper DLOW's "Do It Like Me" challenge.
Clark is no stranger to media attention for his unique approach to education — he's a Global Teacher Prize finalist and, according to Time, he's even been interviewed by Oprah — but this time he's outdone himself. He runs the Ron Clark Academy in Atlanta, and over winter break, he started getting messages from some of his students asking him if they could teach him some dance moves for the challenge. He agreed, and on January 3, he and the students got together at the school and filmed their viral video.
The video went up yesterday and already it's been shared over 60,000 times. Clark told the Huffington Post he agreed to do it because he knew it meant a lot to his students for him to participate. "School should be exciting to them," he said. "You've got to know who your kids are and show them that you care about their culture. You may not be a dancer but you've got to find a way to reach the kids or else you're going to lose them."
The Ron Clark Academy opened in 2007 because Clark wanted build a school that would "be creative, full of innovation," and employ "the best teachers in America." Since then, he's built a successful school, known for its ability to balance academics and a strict code of discipline with innovative and exciting teaching methods. The Huffington Post says it's not unusual to find teachers rapping or dancing, finding new ways to engage their students, and bringing a fun, youthful vibe to the classroom.
Teachers like Clark are inspiring not just because they're silly or cool, but because they do whatever it takes to relate to their students and to inspire them to love learning. Kids at Ron Clark Academy probably love going to school every day, and it's because they know they have teachers who care about them and are interested in their lives. So many teachers go the extra mile for their kids, and it's great to see videos like this that remind us of all their hard work and dedication.