English Teacher Turns 'Friends' Song Into Creative Welcome Back Video For Students
by Leah Groth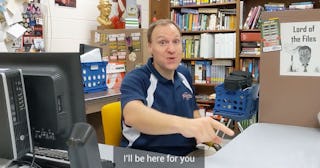 Paul Miller/Facebook
Wisconsin teacher Paul Miller created a video inspired by the 'Friends' song to kick off the virtual learning school year
Students, parents, administrators, and teachers are all majorly impacted by the COVID-19 pandemic. Whether your children are starting off the 2020-21 school year with virtual learning at home, are physically back at school, or a hybrid of both, there is one universal truth: Education has never been so, well, weird. In hopes of making the current situation a little more comfortable, one Wisconsin teacher decided to make the best of a not-so-funny reality by injecting a little humor and creativity into a now-viral homemade music video.
Paul Miller, who teaches English at Appleton East High School in Wisconsin, filmed and released a music video last week inspired by the Friends theme song, "I'll Be There for You" by The Rembrandts.
According to local Appleton's 2 First Alert, the devoted educator always kicks off the school year with a song. On his Facebook page there are even videos going back to 2010, when he did a parody of Black Eyed Peas hit song "I Gotta Feeling." However, with the school year starting virtually, he opted to recreate the words as well.
"I have a tradition in my class where I start off every year singing a song," Miller told news station WMTV. "But we had to rewrite the script and try something new and different this year. Learning is about being uncomfortable and challenging your skills and pushing your ideas, so I try to get a little uncomfortable in front of the students on the first day."
He starts the video about to play his annual tune for students, before noticing his classroom is empty. "Hey, where is everybody," he asks, before running out in search for his students and breaking into song.
"So, no one told me school was gonna be this way," he sings. "I got my lessons ready, but the students are MIA."
Throughout the song, Miller reiterates to his students that he will be there for them during the virtual learning experience and that it will be great. He also mentions the positives of virtual learning: getting to sleep later and being able to wear pajamas to school. And eventually, all will be united when school resumes in person — or, as he sings, "until you are here with me, too."
So, how exactly was the video filmed? "I spent a day writing the song, a day recording the music, and then my wife and I came to school on Sunday afternoon when no one was here, and we got all the video footage," Miller explained.
While his 2017 parody of "I Will Survive" was notable as well, this is the first time one of his videos has gone viral. In fact, people all over the world have been reaching out to him. "Really, the attention we are getting this year is completely off the charts," he said. "I have gotten messages from Arizona to India. Apparently, Friends is very popular in the Spanish-speaking school of Mumbai."
To truly experience Miller's awesomeness, you have to watch the video.