Teacher Confused About What Decade We're In Washes Boy's Mouth Out With Soap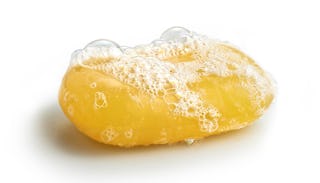 Image via Shutterstock.
Teacher put soap in a boy's mouth after he cursed at another student
A 10-year-old boy allegedly had his mouth washed out with soap because his teacher thought it was a responsible form of punishment. The teacher's been suspended, and the student hasn't returned to school since the incident. Regardless of how we discipline our kids, we can probably all agree that it's not a teacher's job to wash a child's mouth out with soap.
"She told me to go by the sink and she got a bar of soap and she started rubbing it on my tongue," Donald Thomas told CBS 21 News. The boy's mom was rightfully outraged. "I was very upset, hurt, confused. I just didn't understand why this even had to happen," said Ciara White, the boy's mom."It's definitely assault, maybe even poisoning. Soap doesn't belong in someone's mouth." She called the police who, after writing up a report, decided the situation wasn't criminal and asked the school to handle it.
Camp Curtin Academy is part of the Harrisburg School District. They've launched an internal investigation into the teacher's actions. And while school and district administrators won't comment on the record, some details have been released about what led to the soap in the student's mouth. Apparently, a fellow student put his feet in the way of 10-year-old Donald on Oct. 11. The two then exchanged curse words, but the teacher in question wasn't there that day. She heard about the squabble when she returned to the classroom a few days later, PennLive reported.
The teacher spoke with both students, but according to White, didn't believe her son's account. At the end of the school day, she called Donald to the classroom sink and allegedly rubbed the soap in his mouth and had him rinse it out. Donald's mom said the teacher admitted to the soap punishment and thought it wasn't a big deal. "I said, 'Are you crazy?'" White explained. "And she said, 'Well he was cursing. I've had this problem with him for a while."
I'm very familiar with the cursing and soap in the mouth tradition. I was about 10 or 11 when I cursed at my Irish Catholic mom, and she made me wash my mouth out with soap. But that was more than 20 years ago, and it was my mom – not my teacher. Still, most parents have learned that these types of punishments are cruel and teach children nothing. So it's a bit shocking to hear that a teacher thought this was a good idea. Especially since the educator supposedly didn't reach out to Donald's parents first to talk about his allegedly bad mouth.
His mom said she called and texted the teacher in the weeks leading up to the incident with questions about a school assignment. According to White, the teacher never returned her calls or texts and never mentioned any behavioral issues. "I want him to go to school, learn, be productive and behave and come home and I don't know if that is possible right now," his mom shared.
For now, he's at home while his mom waits to hear from school administrators about how they plan to handle the teacher's actions. "I do want to go back to the school, if she doesn't work there anymore," the 10-year-old explained. "I just don't wanna stay in that class."
[free_ebook]
This article was originally published on