Even Lizzo Loves This Teacher's Empowering 'Truth Hurts' Remix
by Julie Scagell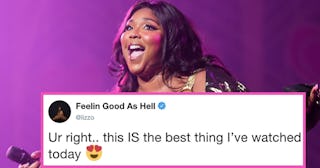 Steven Ferdman/Getty and Lizzo/Twitter
This 'Truth Hurts' remix may be the best one yet — even Lizzo agrees
It's impossible not to love everything about Lizzo and if you're a regular listener of her songs, you know how addictive they can be. One California second-grade teacher decided to remix her hit song "Truth Hurts" to teach her students about homework, friendship, and confidence — and the result is truly heartwarming.
Teacher DorothyHoney Mallari works at Pittsburg Unified School District in Pittsburg, California and she's clearly willing to do whatever it takes to keep her students entertained while learning. She taught her students new lyrics to the popular song and danced on desks while she and her class all sang along. The district posted it to their Facebook page, saying, "Ms. Mallari uses a Lizzo song to teach her students to be GREAT. This video is less than 90 seconds long… and you'll be glad you watched!"
The original song is about boy problems, but Ms. Mallari is definitely empowering her students with new lyrics like, "Let's be great, 'cuz I know we are great," and "I just took an ELA test, turns out I'm 100% that smart… even when I'm feeling lazy."
The song continues with lines like, "Yeah, I got math problems that's the student in me. Buzz, buzz then I solve them, that's the worker [bee] in me. You want to have a good friend, who's committed. Help you with your homework, just a little. You know I'll hold you down, because you got my back. And that's the sound of the yellow and black," the students sing, referring to the school's colors. "Let's be great, 'cuz I know we are great. Let's hurry, we don't want to be late."
The "Truth Hurts" singer's music makes everyone feel good. From grandpas rocking out at her concerts to her entire group bringing rescue pups on-stage during a recent performance, to all of her body-positive lyrics, it's impossible not to love everything about her. Just last month, "Truth Hurts" became the longest-running No. 1 single from a female rap artist, ever, giving Lizzo all of the credit she deserves.
The queen herself also saw the video of Ms. Mallari and shared it to her Twitter page, saying, "This IS the best thing I've watched today."
The song ends with students belting out, "Choose a crate or a wobbly chair. Let's take turns so we know it is fair. In this class, you'll never catch us fighting. Time's up we need to start our writing. Smart spots make learning more exciting."
We agree with Lizzo, this really is the best thing we've seen all day.