Teacher's 'Books and Braids' Program Is A Genius Way To Get Kids Reading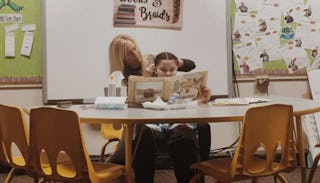 Image via Sara Medalen/Kelly Boswell
The kids get to read while having their hair braided
It's a salon ritual for many women: reading and getting our hair done. The relaxing routine of thumbing through glossy magazine pages is part of the salon experience. Turns out, this hair salon custom can also be used with kids in the classroom (minus the clouds of hair spray and smelly bleach).
The results? Something that will never go out of style.
Sara Medalen is a Title I Reading and Math teacher at Sunnyside Elementary in Minot, North Dakota. She mimics the salon experience in her classroom to promote literacy among her students. She calls her program "Books and Braids."
"The special one-on-one time is as awesome for me as it is for the girls," Medalen tells Scary Mommy.
"I try to make it different from me being a teacher, so I say, 'Hello, I'm Sara, I'll be your stylist today. How would you like me to do your hair?'
She explains that the kids get to pick out their hair accessories and a comb that they get to keep. "It's funny but getting to keep the comb has been such a big deal to them," she says.
Medalen tells us that she got the idea for "Books and Braids" from a student about a year ago.
"I had a student who always had her hair fixed nicely and her Mom went out of town for a week and her hair was a disaster," she says. "She was the only one that came to our reading group that day so I asked if she wanted me to braid her hair while she read."
The little girl let Medalen tend to her hair that day. Some time later, the same student asked the teacher if she could do it again while she read.
"It was such a beautiful moment listening to her precious little voice read while I braided and the idea just popped into my head – 'Books and Braids.'"
Medalen's friend took a picture of her braiding a little girl's hair during a "Books and Braids" appointment and posted it to the Facebook page Love What Matters.
In the post, Kelly Boswell explained that the girls are invited to make a before-school appointment for a styling. They check in at the "salon" and then the students read to Medalen while she combs and braids their hair.
"The child walks away with a brand new comb, a fancy new hairstyle, and some personal attention from a loving adult," Boswell wrote. "What a beautiful low-stakes way to invite readers to read!"
She added, "And, better yet – there's no silly stopwatches or unwanted stress. Just books and braids."
Literacy in itself is extremely important to the academic future of our children. According to Save the Children, a non-profit that promotes literacy in children in the United States, only about a third of fourth graders are proficient in reading. Sadly, by fourth grade, if children can't read at grade level, they're unlikely to ever catch up.
Additionally, it's not just girls Medalen is trying to reach.
"I have had some boys interested and I have said that I will absolutely not discriminate. I haven't done any yet, but I will if they want me too…or even just fix their hair – gel it up or something," she says. She adds that she's talking with the before/after school coordinator at her school and throwing around ideas about what they could do for the boys and seems confident that they'll implement something soon.
Medalen has only been doing "Books and Braids" for a couple of months, but so far, she says the outpouring of positive support has been huge.
"I tried doing the math to figure out how many Books And Braids salons might open across the country and how many little girls lives will be touched…it's overwhelming," she says. "I'm just so very happy that one little idea could make such a big difference."
H/T: Love What Matters