We're Sacrificing Our Teachers: Several Already Reported Dead From COVID
by Cassandra Stone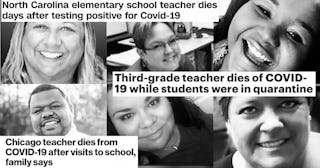 Scary Mommy, wreg, WCNC woodtv, Windsor Elementary, Harrisburg School District and KMOV St. Louis
We're losing teachers to COVID all across the country, not even two months into the school year
The death of teachers all across the country are a grim reminder that the pandemic rages on despite the fact that Donald Trump and like-minded lawmakers have pushed for schools to resume in-person learning. During the past week, a beloved Arkansas elementary teacher, a third-grade teacher from North Carolina, and a Michigan educator all died from COVID-19. To date, more than 210,000 Americans have lost their lives to the vicious virus Trump and his fellow Republicans politicized by cruelly downplaying its severity and refusing to order a federal mask mandate.
"With a heavy heart, we are saddened to announce the loss of one of our own, Mrs. Susanne Michael," reads a Facebook post by the Harrisburg School District in Arkansas on Oct. 2. "Mrs. Michael was an outstanding teacher who cared very deeply about the success and wellbeing of each and every one of her students. We will all miss Mrs. Michael very much and our school community will spend many difficult moments grieving her loss."
Julie Davis, a third-grade teacher in North Carolina, died days after testing positive for Covid-19 and while her students were quarantined as a result of the exposure. Michelle Bailey, a spokeswoman for the Stanly County School District confirmed the story to WSOCTV.
According to Bailey, Davis began experiencing symptoms on September 25 and immediately self-quarantined. On September 29, the Stanly County Health Department notified parents of the teacher's third-grade class that they were required to quarantine for 14 days after being exposed to a staff member who had tested positive for the coronavirus. Davis died on Sunday, Oct. 4.
Michelle McCrackin, a Michigan Title I teacher and paraprofessional, is also a recent victim of COVID-19. Montcalm County health officials confirmed on Sept. 30 to News 8 that she died of respiratory failure after being diagnosed with COVID-19.
"This happened so suddenly. It was a real shock to everyone," Marcus Cheatham, health officer with the Mid-Michigan District Health Department, said. Montcalm County is a rural area in Michigan and now has 15 positive cases in the Carson City district of just 900 students. At least 13 staff members have been quarantined and the district has switched to virtual learning. Cheatham said the death of an otherwise healthy individual shows just how dangerous the virus is. "It's killing people. And it's spreading like wildfire throughout the Montcalm County community."
Within the first two weeks of September, at least six teachers died from COVID-19. Also in September, a 28-year-old teacher and her 57-year-old mother from South Carolina both contracted COVID-19 and died within weeks of each other.
Demetria "Demi" Bannister, a third-grade teacher died on Sept. 7, just three days after testing positive for the virus. Her mother Shirley Bannister died on Sept. 27 from COVID-19 complications. Shirley's brother Dennis Bell told CNN that his sister "got really sick about two, three days after her daughter died" on September 7.
A family friend told KSDK News that she struggled to even get a COVID-19 test and Bell told CNN that his sister had a history of both asthma and diabetes and, after attempting to go to the hospital early on, still wasn't admitted until it was too late.
As schools across the U.S. continue to operate in-person, educators will continue to fall ill with the virus and die. While virtual learning presents its own sets of challenges and negatively impacts the mental health of everyone who must endure it, the death of teachers is inarguably traumatic for children to have to endure. With COVID-19 cases still surging all over the country and a President who continuously downplays the deadly virus even after contracting it himself, we are in dire need of leadership that responds to this pandemic with the swift action and thoughtfulness we have yet to see from the White House and Republican legislators nationwide.
Our teachers' lives are not expendable. They did not "sign up" for this. It's only October, and too many of them have paid the ultimate price.