At Least 6 U.S. Teachers Have Died From COVID Since School Started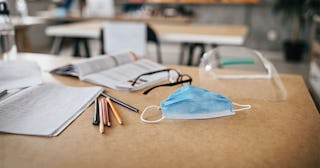 mixetto/Getty
Teachers' deaths from COVID-19 are a stark reminder of what's really at stake as schools continue to push toward reopening
More than 200,000 Americans have now died from confirmed coronavirus infections. We already knew that included some teachers — a beloved 30-year-old Brooklyn teacher died from the virus in the early days of the pandemic, and Demetria "Demi" Bannister, a 28-year-old teacher in South Carolina, made headlines this week when she died from COVID-19 just before classes began for the fall semester in her district.
But they weren't the only ones.
As schools across the U.S. continue to push forward with their plans to reopen amid the COVID-19 pandemic, reports keep coming of teachers who are dying. It's a reminder of what should be most important to us now — not crowding students and teachers back in classrooms, not threatening to pull their funding if they don't hold classes in person. People's lives are at stake, and that's what matters.
AshLee DeMarinis was a 34-year-old special education teacher in Missouri. She had been teaching for 11 years. Soon after teachers returned to begin preparing for the fall semester, she became ill. After three weeks in the hospital, DeMarinis died from COVID-19.
Nacoma James was a 42-year-old football coach in Mississippi. He was beloved by his students and spent the summer coaching football practices, hoping his team would be able to return to the field in the fall. In August, he got sick. During the first week back at school for his students, James died from COVID-19.
Teresa Horn was a 62-year-old special education teacher in Oklahoma. Just two days after students in her district returned to start their fall classes, officials announced that Horn died from COVID-19.
In Des Moines, Iowa, yet another report of a teacher who died. The district didn't name the teacher who passed, but confirmed it was a special education at the Ruby Van Meter School, who became sick after taking an out-of-state trip.
The death (or serious illness) of a teacher is just another trauma we're asking our kids to potentially endure, during a year already filled with trauma. Do we want our kids to have yearbooks with "In Memoriam" pages, honoring teachers and peers who have died? The U.S. leads the world in confirmed cases of COVID-19, and in deaths. If there's anywhere in the world that shouldn't even be considering in-person learning this year, it's here. It's time to stop treating teachers and students like they're expendable and do the right thing to keep them safe.