Teacher's Hilarious Snow Day Adele Parody Goes Viral
by Valerie Williams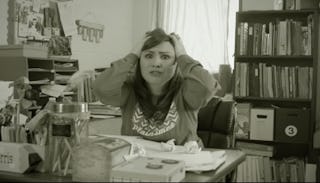 Image via YouTube
Mary Morris' Adele parody is a great argument for giving teachers what they love — more snow days.
Third-grade teacher Mary Morris released a parody of Adele's "Hello" called "Snow", and the video for the song came out this week. It's absolutely hysterical (and Morris has a beautiful voice, to boot) reminding us all that when it comes to snow days, no one is happier to hear about them than teachers.
As the east coast prepares to be slammed with snow courtesy of Winter Storm Jonas (stay safe, everyone!), tons of parents, kids and teachers anticipate potential school closings on Monday. As parents, snow days are often a source of dread due to resulting childcare complications, missed time at work and trying to keep kids occupied all day when the weather might be too cold to get outside.
What some of us might not consider is how thrilled a teacher is by that very same announcement. And frankly, they deserve those bonus days off amid the long winters teaching classrooms full of restless, antsy kids.
Morris is pitch-perfect in her video for "Snow" as she mimics the moody vibe of Adele's "Hello" with the setting being her third-grade classroom. She gazes at photos of herself as a child remembering the joy of finding out about a snow day, only now, as a teacher. Her lyrics wax poetic about a day spent watching Netflix and staying in her jammies. It sounds like heaven, frankly.
Opening with her plea for snow, Morris sings for all teachers hoping for a surprise day off. "Snow, it's me/ I know we just got out for Christmas/ But I'm ready for some more time/ To myself, you see/ So if you could come a day or two or maybe 23."
She goes on to illuminate the truth of teaching little kids in the dead of winter — they're crazy, pretty much. Hyper, bored and full of energy with nowhere to burn it off. She sings, "If it has to be so cold/ The least that it can do is snow/ If I have to keep my students inside/ One more time, for recess, I'm gonna lose my mind." We feel you, Mary. We feel you so hard.
On a recent snow day, it was much too cold to take my kids outside. And so commenced endless hours of breaking up fights over Shopkins and Minecraft, attempting to bake cookies without getting fucking flour everywhere and stopping them from using their kiddie scissors to turn a stack of construction paper into confetti. It was tense and stressful. It felt as though the kids could sense my desperation to occupy them and harness their excited energy, doing everything in their power to thwart my efforts.
All it did was give me an incredibly deep sympathy for the teachers forced to do the same thing all winter — keeping our kids busy, engaged and learning — when the weather's too bad to take them outside. As much as snow days might be a total pain in the ass for parents, I'm glad it provides a little reprieve for teachers, strung out from our stir-crazy kids.
This video makes me want to send a tray of cookies and a Starbucks gift-card to my kids' deserving teachers as a thank-you for suffering through the long and boring winter without throwing Shopkins at the wall like I did last Tuesday.
Teachers, we salute you!
H/T Today Parents
This article was originally published on