Teachers Quit Their Jobs At A Record Rate In 2018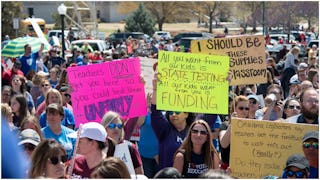 Image via J Pat Carter/Getty
Teachers were quitting their jobs at record-high rates in 2018
Here's a depressing but not at all surprising new statistic. 2018 marked the highest rate of public education employees quitting their jobs, according to the Wall Street Journal. This news only goes to further spotlight the poor working conditions that teachers have to deal with in schools.
Government data shows that 83% of 10,000 public educators quit their jobs during the first ten months of 2018. That's the highest number of teachers leaving their positions on record. So, what's driving this mass exodus from the teaching profession?
"Part of it was compensation," Alice Cain, executive vice president of the policy organization Teach Plus, told the Wall Street Journal. "But part of this was that their students weren't valued, and that the public education system in our country isn't a priority in so many places."
We've been hearing more and more heartbreaking stories about just how broken the public education system has become. In April, Laurissa Kovacs, an art teacher in Oklahoma, went viral after sharing a picture of one of her classroom's many broken chairs on Facebook. "This chair, or cheek-pincher, is what my students have to sit on," she wrote. "Most of the chairs in my room look like this. Once they get to this point it's only a matter of time before the bottom goes completely out."
There are never enough classroom supplies to go around, Kovacs added, and her class is over capacity. The cherry on top? Her salary is $27,732.
Teachers in Oklahoma walked out of their classrooms that same month, asking for a $10,000 raise and $200 million in education funding. In West Virginia, teachers also went on strike, protesting their low wages (West Virginia is among the country's worst offenders when it comes to underpaying their teachers).
Some teachers have actually had to turn to Instagram to supplement their income. They literally have to become social media influencers in order to pay their bills. "I lock myself in the office and spend at least six hours a day working on products and creating images to post on Instagram and things like that," teacher Amy Groesbeck told BuzzFeed News. "It really is a second full-time job."
Sara Jorve, a former fifth-grade math and science instructor in Oklahoma, told the Wall Street Journal that she quit her job because the pay was so terrible that she had to rely on her mother for help. She has since gone back to school to become a cardiovascular ultrasound technician.
"I had to quit for my sanity,"Jorve said.
This is completely unacceptable. Teachers deserve to be paid living wages and students deserve the resources they need to learn. End of story.