Teacher's Surprise Graduation Cap And Gown Brings Student To Tears
by Jerriann Sullivan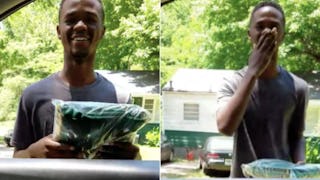 Images via YouTube.
"It's the perfect ending to a story you know was different in nature."
A teen in Georgia was brought to tears when his teacher surprised him with his graduation cap and gown. Until that moment, Jamias Howard didn't know if he'd qualify for graduation and walk across the stage with his fellow Griffin High School students.
Howard hadn't ordered a cap and gown since he assumed his final grades wouldn't make the cut for graduation. After "some challenges," Howard wasn't able to go back to school for his final semester. But special education teacher Kimberly Wimbish didn't want to see a kid come that close to graduation and not be able to finish. So she volunteered to help the teen outside of the classroom. "I worked with him after I finished work," she told CBS News. "I met him out at a library, a park, Burger King — wherever he could. We'd have class out in the community."
After months of hard work, Howard and Wimbish have a special bond. "When you're teaching and build a relationship with your students you basically become a parent. So there are times when he gets the teacher and times when he gets the momma," Wimbish shared. "Sometimes he gets the momma and teacher combined, only when I have to give him the business."
When Wimbish was on campus last week, she found out Howard's dream of graduating high school would be a reality. "It was extremely special for me," she recalled. Wimbish grabbed the cap and gown and took it to the teen's house to surprise him with the good news. She caught the emotional exchange on video and shared it on Facebook.
"Oh man, thank you," Howard told his teacher. "Appreciate it, ma'am. I love you so much!" Wimbish said, "I love you, too. You good?" As the tears started to form Howard explained: "Yes, ma'am. Appreciate it. Thank you so much for what you do for me. Appreciate it."
Wimbish went above and beyond to be there for her student and was happy to see his softer side when she delivered his cap and gown. "He said, 'I love you so much,' about three times," Wimbish told reporters. "I was shocked because he tries to be a tough guy. To see him being vulnerable was really refreshing." Her tear-jerking video quickly went viral as close to 300,000 people have already viewed it. The graduation ceremony on Saturday was even more special for the teacher, who saw her son and Howard walk across the same stage. "Now I feel like I have two kids graduating," Wimbish shared. "To me, it's the perfect ending to a story you know was different in nature."
"He has so much pride now. He's excited — he's telling everyone he's graduating," she explained. "He didn't think he was going to [graduate], honestly. The odds were stacked against him."
Even though Howard's done with high school, Wimbish has already started helping the teen with the next phase of his life: college or technical school. She's raised more than $20,000 for Howard's next academic adventure. "He's interested in being an auto mechanic," she explained. "We'll help him find the right fit to meet his needs."