by Angela Anagnost Repke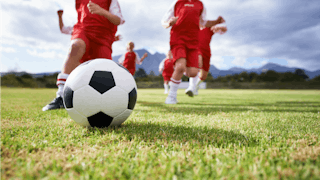 PeopleImages / Getty Images
The 5-year-olds were bunched together — all 16 legs swinging at the same soccer ball. Finally, the ball broke free. One of the boys in blue ran down the field. My son in white sprinted to reach him. It was too late. The boy in blue kicked it — the ball hitting the back of our net. The score was now tied. My son stood furious.
He stuck his tongue out at the player, put his fingers behind his ears, and started wiggling them. His brown curls waved as he shook his head taunting the player who scored.
As both his mother and coach, I turned stiff. I felt the immediate stress in my shoulders. I wanted to grab the whistle around my neck and blow it in my son's face. Instead, my lips pierced together and my eyes scorched my son.
Pointing to his dad on the sideline, I said, "Go sit down. Right. Now."
My son couldn't think of any words to say to his coach or mother. He stomped out of bounds grabbing his water bottle. I walked back onto the field and didn't look back.
Two more goals were scored against us before the end of that third quarter. I blew my whistle and walked toward my son on the sidelines — cooled down and ready to talk to him about the importance of sportsmanship. I waved my hand toward my chest, motioning that he come talk to me.
Instead, he glared at me shooting ammo out of eyes. He kicked the ball at me with all of the might from his tiny right foot.
Startled by my child's behavior, I pointed to the sideline once again and said, "You are done. Sit down for the rest of the game."
I coached the rest of the game frazzled. The rest of my players were hot and whiny.
"Can I sit out, Coach?"
"Can I play offense, Coach?"
"When do we get our snack, Coach?"
We lost that game 6-2.
The truth is, I didn't want to bench my own kid. Not only is he good, but he's typically a solid teammate shouting "good job" and "get in there!" But I knew that I had no choice — the bench needed to be glued to his butt. If I hesitated, if I allowed him to play after showing his unsportsmanlike behavior, I'd be sending a message loud and clear.
"If you're a good player, you can do whatever you want."
"You can be rude to the other team when they score or win."
"Acting entitled is okay."
I knew the other parents were watching too. In the end, I was happy that I had to make an example out of my own son instead of theirs.
After the game, we rode home together — our family of four. My son and I had both calmed down. "Do you know why I made you sit out?" I asked.
"No," he responded.
"Are you sure? What did you do that made you a bad sport?"
"I stuck my tongue out at that boy," he finally said.
"How would you feel if someone did that to you after you scored a goal?"
"Bad."
I went on to explain to him the ins and outs of good versus bad sportsmanship. How winning and losing is a part of sports. And even when we lose, and it feels really, really crappy, you have to congratulate the other team because they earned it.
There are going to be times in life, not just in sports, when another kid is going to outdo my son. Maybe a peer will earn a better grade on a geometry test or get into that college that denied him. Having good sportsmanship doesn't mean that losing doesn't suck — it does. It means that you still congratulate the winner, the one who outdid you.
Sometimes being a good sport is hard. Sometimes the winner (or winners) act like pompous jerks. You don't want to be the bigger person. You don't want to give them a high-five. But you have to. It might not feel good, but there are times in life when you suck it up.
We had to play that team again. My son didn't score a goal. And that same kid did. We lost — again — to the same team. My son and his teammates lined up across the white halfway line and slapped hands with the other team. He didn't like it, and honestly, neither did I, but we did it. The other team earned the win and our praise.
My son decided to leave his bad sportsmanship on the field on that hot day. And I'm sure there will be times when another coach benches him, but I hope it won't be for his bad sportsmanship.