We Have A Teal Pumpkin And So Should You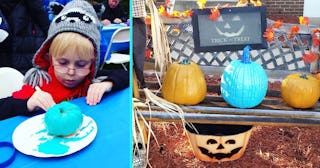 Courtesy of Kathy Soppet
I remember watching the "It's the Great Pumpkin, Charlie Brown" special on TV as a child growing up in the 1970s. Year after year, it became a Halloween tradition in many households.
Even today, families gather together to watch it with great anticipation. It brings back childhood memories and a feeling of nostalgia.
I couldn't wait to have children to share this Halloween ritual with. I've watched it for almost 10 years now with my daughter and five with my son.
This year, watching the special will feel a little different. It will take on a much deeper meaning for me and my family. Since my 4-year-old son was diagnosed with life-threatening food allergies last December, every holiday tradition must change in order to protect him. There will be different foods, beverages, desserts and treats.
During the past 11 months, I've been doing a lot of food allergy-related research and trying to prepare for what lies ahead. I've realized that even though I have a life-threatening food allergy to shellfish, I barely knew anything. Many people need to become informed about the dangers of food allergies.
I realized that before my son was diagnosed with these severe food allergies, I never really thought about trick-or-treaters with food issues. I also realized that even though I have learned a lot in the past year, I still have a long way to go. I can always become a better human being. I can always do more to make others happy, especially children.
One of the things I've read about is the Teal Pumpkin Project. It is sponsored by Food Allergy Research & Education (FARE) and was launched as a national campaign in 2014. It's a wonderful project with the goal of inclusion for all children in trick-or-treating activities.
All you have to do is put a teal pumpkin or a FARE sign in front of your house to let trick-or-treaters know you have some safe non-food items for them. These items should be stored and shared separately from the candy items in order to protect them from cross-contamination, which can harm kids with food allergies.
Many children face challenges with food-related issues. These children deserve to have the same trick-or-treating experience as other children.
It is great fun going door to door, being greeted by neighbors and seeing all of the decorated houses and fellow trick-or-treaters. I do not want my son or other kids to miss out on that experience.
My son can no longer eat the Halloween candy he is given. I must switch it out with pre-selected candy we buy him that we know is safe. I will donate all of his trick-or-treat candy to my daughter's school, who will then donate it to charity. It will be wonderful if he gets some non-food items this year.
One in 13 kids have food allergies. The wrong foods can harm or kill them.
Let's show them our support. Please put out a teal pumpkin on Halloween and offer some other things besides candy such as spider rings or glow bracelets in a separate bowl. Even if few kids with food allergies or other issues knock on your door, doing this will mean the world to them.
It will show them that you care. It will show them they are not alone. It will show them that people are indeed awesome and loving.
Every time I spot a teal pumpkin this Halloween, I will take a moment to show my son. I will take a moment to shake the hand of the person who supplied my son with non-food treats. I will express my gratitude.
I've ascertained many things these past few years. I've learned that there is nothing more important than family and helping others.
I've discovered that if you learn to care about and help one person in need, you will then learn to care about many more. You will receive many benefits from this, including expanding your heart.
Our tradition of watching the Charlie Brown special won't change, but its impact and message will. Charlie Brown wants desperately to feel loved and included, just like children with food allergies or other issues. Linus represents hope, the kind of hope we all struggle to grasp and keep within reach.
This year, many children will wait for the Great Teal Pumpkin to arrive. I hope they will not have to wait too long … for the Great Teal Pumpkin is you!
This article was originally published on