Teen's Surprise 'Coming Out' Party Is Parenting Done Right
by Ashley Austrew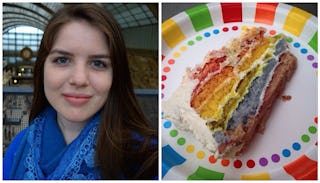 Image via Instagram
Family throws amazing "coming out" party for their teen
As parents, it's our job to make our kids feel supported, loved, and accepted for who they are. One New Jersey family totally got that right last week when they threw their teen daughter an amazing Pride party to celebrate her coming out.
Kinsey is a 17-year-old from New Jersey who recently made the big decision to come out to her parents after they asked about her sexuality. Her parents wanted to be supportive, so they sent her to the mall with her cousin and told her they were planning an early Fourth of July party. When Kinsey got home, she saw what they were really up to: her entire family had organized an impromptu Pride celebration just for her.
The party was basically a smorgasbord of amazing rainbow foods, along with rainbow plates, cups, napkins, and decorations. They even got rainbow napkins that said "pride" on them, and they made sure all the food was vegan friendly because Kinsey adheres to a vegan diet. The teen shared photos of the celebration on Twitter, and they've since been retweeted almost 11,000 times.
After coming out to her parents, Kinsey also came out on Instagram to many of her friends and followers. She posted a photo of herself with a filter that makes her look like a puppy and wrote, "A year ago today I found out that I'd be able to marry the love of my life in my own country… I was a very happy pup (& oh yeah btw I'm gay and this is me coming out yikes)."
Kinsey told Buzzfeed News people have been "hugely supportive" of her, and have even been tweeting her their own coming out stories since she posted about her party online. "I love being a part of such a caring and awesome community," she said. "The best part is seeing how happy the party has made everyone. Especially in light of the Pulse shootings this past Pride Month, our community needs a little joy and hope and I'm glad to say my family has helped contribute to that."
Despite great strides towards equality, the scary reality is that many in the LGBTQ community still face discrimination and danger just for the simple act of being who they are. For kids as young as Kinsey, there's a real danger that friends and family won't accept them for how they identify or who they choose to love. Kinsey's party was the perfect way for her family to show her they stand behind her no matter what, and hopefully it inspires other families to adopt a similar attitude. No one should ever have to worry that they won't be accepted by their loved ones for who they are. Kinsey's amazingly thoughtful party was a parenting win for sure.
This article was originally published on