Ninth Grader Dies By Suicide After He Was Bullied For Being Gay
by Cassandra Stone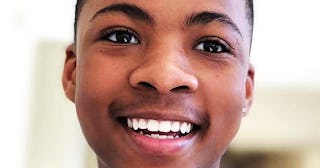 Gofundme
The teen was allegedly bullied due to his sexuality, which led to him battling depression
A fifteen-year-old boy has died by suicide last week after being subjected to constant homophobic bullying in school. Nigel Shelby, a ninth grader at Huntsville High School in Alabama, battled depression and struggled to accept his sexuality, his mom says.
"Coming out at such a young age, it can be hard," Camika Shelby, Nigel's mother, tells NBC News. "You never know if you're going to be accepted. He didn't know if I was going to accept it — that's my child I love him."
Shelby says Nigel was bullied by his peers at school for being gay."He would tell me that kids would say things to him that would hurt his feelings," Shelby says. "I didn't think it was as deep as things I'm hearing now."
She says the day he died, she left for work while he was still asleep in bed. When she arrived home later that evening, she walked into every parent's worst nightmare. She tells PEOPLE she never expected her son to take his own life, and was unaware of the depth of the bullying and its effect on him. "I knew he was depressed, we were going to see doctors… I'm still shocked."
Shelby says Nigel "struggled with his identity" as a gay person, which also factored into his depression. "He was struggling with his identity… depression is real — it's really a disease," she says. She hopes to spread awareness about bullying and the role it plays in mental health. "When you have a kid that's already depressed and going through a lot emotionally for you to call him names that you shouldn't call them or say stuff to them — it sometimes has a worse effect than it would on a child who's not struggling with depression."
She describes her son as "the sweetest child," calling him "a light" and "full of joy." She hopes that he'll be remembered for who he was, and not for how he died. "He was so much more than that. He was sunshine. It breaks my heart because he had so much more love to give." It truly is a heartbreaking loss in every way.
Following the news of Nigel's death, Huntsville High School, where Nigel was enrolled as a freshman, released a statement in support of the Shelby family.
"Our sympathy, thoughts, and prayers are with Nigel's family. Parents, please talk to your students about Nigel's death. Know and be aware of changes in your child. Talk to them about what they see, words they speak and actions they can take to make a difference. We must be better," the statement reads.
A GoFundMe has been set up in Nigel's name to help his family with funeral arrangements as they grieve this enormous loss.
This article was originally published on