Teen Passionately Speaks Against Betsy DeVos -- And She's Right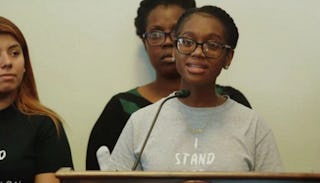 Image via Facebook
A Detroit student let Trump's nominee for Education Secretary know how she feels
President Trump has made some controversial selections to his cabinet, and this past week, his nominee for Secretary of Education was under a harsh spotlight during her nomination hearings. Her qualifications were repeatedly questioned by members of Congress and the media, but now, we're hearing from an actual student.
And she's not happy.
No one will be more effected by the policies of Betsy DeVos, Trump's nominee for Secretary of Education, than the children going to school for the better part of their young lives. And one of them is speaking out.
In a video posted to the American Federation of Teachers' Facebook page, Dannah Wilson – who attended the confirmation hearing as part of a 119-person group of parents, organizers, and students from Detroit – explains her problems with DeVos' appointment.
In the video, Hannah details the extraordinary circumstances surrounding her quest for "satisfaction" in the school system. She explains that she and her four siblings have attended 22 schools – 22! – in their quest, and that in order to give their kids "a quality education," her parents drive 165 miles a week.
Hannah closes her speech by voicing her concern that DeVos is not the person who is going to solve her problems.
"The search for this satisfaction does not start with Betsy DeVos as the Secretary of Education for the United States of America."
Hannah isn't the only person with concerns about Betsy DeVos' appointment. Like so many of Trump's choices for his cabinet, she seems to lack the basic qualifications for the role, and actually stands in stark opposition to – or in utter ignorance of – many of the things the Education department stands for. Like access to public education, support for disabled students, and more.
In all the outcry from politicians, reports, and people on Twitter, voices like Hannah's should ring out the loudest. Students like her stand to have both their daily lives and their long-term futures directly affected by decisions DeVos makes as Education Secretary. So this video, showcasing the point of view of one such student, is an important watch.
And people have been watching it. The video has been viewed more than 6 million times. But the Trump administration needn't worry; I'm sure most of those are people viewed it illegally in California.