A Teenager's Thong Was Cited In A Rape Trial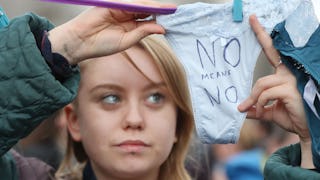 Image via Niall Carson/PA Wire/Getty Images
Protests have erupted in Ireland and online after a teenager's thong underwear were used against her during a rape trial
Women around the world are tweeting pictures of their underwear under the hashtag #ThisIsNotConsent after a man was found not guilty of raping a teenager in Cork County, Ireland.
Earlier this month, a 27-year-old man went on trial for the rape of a 17-year-old girl. The girl, who was a virgin, claimed that the man dragged her through the mud and forced himself on her without consent — afterward, she said to him, "You just raped me."
The man claimed the sex was consensual, though one witness saw him with a hand to her throat, and another witness asked if they were all right and he answered, "What the f— does it look like? Mind your own business."
During the trial, defense attorney Elizabeth O'Connell held up the girl's underwear as evidence that she gave her consent to have intercourse. "Does the evidence out-rule the possibility that she was attracted to the defendant and was open to meeting someone and being with someone? You have to look at the way she was dressed," O'Connell said in court. "She was wearing a thong with a lace front."
The man was found not guilty after a jury of four women and eight men deliberated for 90 minutes. The verdict — and the defense that the teen's clothing implied consent, immediately resulted in pubic outcry.
In addition to live protests around Ireland, the Dublin Rape Crisis Centre called for legal reforms related to rape trials and consent.
"These kind of mythologies and stereotypes around rape come up again and again in court cases, because the defence to rape is that the sex was consensual," Rape Crisis chief executive Noeline Blackwell said in the Irish Independent. "So anything the defendant can do to suggest there was consent will be used."
The image of the teen's underwear has become the center of the protests, with women posting pictures of their own underthings to make points about clothing, consent, and "asking for it." Politician Ruth Coppinger went as far as holding up her own pair of panties in Ireland's House of Representatives while calling for reforms.
Other women also shared images and words online, driving home the message that what you are wearing has absolutely nothing to do with sexual assault — and that the humiliation of getting your underwear shown to the jury during a rape trial is likely yet another reason that more women don't come forward or press charges after they've been assaulted.
Cartoonists also chimed in with panels that show just how ridiculous using clothing as consent is.
This is the second time this year that Ireland has been in the international spotlight following a rape acquittal. In March, two rugby stars were found not guilty of raping a 19-year-old woman at a party, even though the cab driver reported that she was sobbing on the way home and had blood on her white jeans — the defense also passed her underwear around the courtroom in that case, and asked why she hadn't screamed if she didn't consent.