Teens Are Donating Their Prom Dresses To Other Kids Who Need Help Buying One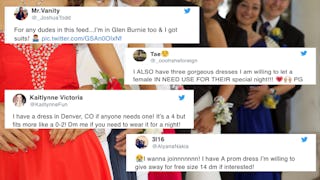 Image via 3bugsmom/Getty Images/Twitter
This teen girl went viral for offering her prom dresses to girls in need
It's prom season, and that can mean only one thing: It's time for teen girls to spend the next month obsessing over finding just the right dress.
But for some teens, finding the perfect prom dress is a lot more complicated than just hitting the mall. Prom dresses are shockingly expensive and not everyone can afford to buy the dress of their dreams.
That's where 19-year-old Mika Riddick comes in. The Maryland teen offered up her 2016 prom dress on Twitter. "Hi, i'm willing to let a girl in *need* use my prom dress. USE FOR THE NIGHT. I need you to be in MD, specifically glen burnie or close to. I have shoes for you as well as a makeup artist if you need that as well. IM NOT CHARGING YOU ANYTHING, JUST HAVE A GREAT NIGHT!!!!!" she wrote.
She also tweeted pictures of her gorgeous dress so potential takers could see it in action. She even offered up the matching shoes and a makeup artist to help the lucky girl get ready for her big night.
Almost immediately, other women followed Riddick's lead and posted their own prom dress offers.
https://twitter.com/jetpack/status/973697975183650816
This girl lives across the country from Riddick but was inspired by the tweet to offer up a dress she wore to a wedding for a teen in need. "It's def nothing like yours," she wrote. "But i have one from my sister's wedding!"
https://twitter.com/jetpack/status/975109499907223552
Another girl offered to help alter her two-piece prom dress to fit any girl in the Chicago area who needs it. Awww.
The offers kept pouring in as girls all over the country offered up their beautiful prom dresses for another lucky person to enjoy.
https://twitter.com/jetpack/status/975097223490015232
Some girls even posted multiple dresses to spread the prom love to as many prom goers as possible.
https://twitter.com/jetpack/status/974301049187168256
Girls weren't the only ones who offered to let strangers use their prom attire. This teen boy joined in, offering up his stylish suit collection to guys in need.
https://twitter.com/jetpack/status/974155112800276480
Of course, not everyone has prom dresses lurking in the back of their closet. Or even if we did, some of us went to prom so long ago that our dresses could only be considered "vintage" (and not in a good way). But that didn't stop adults from showering these teens' generosity with praise.
"THANK YOU.. 32 yrs ago I was that poor girl at prom wish there had been a good soul with a good heart like you doing good deeds inspiring others too ..beautiFULL! I hope this continues to spread!!" wrote one commenter.
https://twitter.com/jetpack/status/974830637981954048https://twitter.com/jetpack/status/973744969776279552https://twitter.com/jetpack/status/974047377702211588
Teen girls often get a bad rap: Mean Girls, anyone? We love this reminder that young women are killing it on the daily when it comes to kindness.
https://twitter.com/jetpack/status/974102348053217285
This article was originally published on