10 Kids Shows And Movies That Will Give You A Few Minutes Of Peace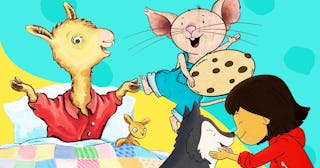 Scary Mommy, Netflix, Amazon Prime Video, and PBS
My kids don't have any formal screen time limits. I know everyone has their own ideas about how much TV is too much, but I'm just not too concerned about it for my kids. They get bored of watching pretty quickly on their own, and they aren't resistant when I say it's time to turn it off. It's not a big thing around here.
While I don't spend much energy worrying about how much, I am careful to pay attention to exactly what they are watching. If the TV is on, I try to make sure that most of the time, my kids are picking up some kind of useful lesson. Kids' programming has so much to offer these days, and I'm here for it.
But the educational opportunity quality kids programming can offer is only one of the reasons I'm pretty picky about what my kids watch. Another reason is because the tone and energy level of a show can make a huge difference in their behavior.
Sometimes, I love to see them dancing and singing along to a high energy show or getting ideas for ways they can recreate the characters' experiences. It's great that watching TV isn't always a passive, sedentary activity for them.
But there are times when I just need my babies to freaking relax.
I mean, I cannot possibly be alone in this.
It's adorable to watch my kids do the Hot Dog Dance, but if I have to hear Mickey tell my toddler what today's Mystery Mouseketool is one more time, I might lose it.
Chris and Martin Kratt are my oldest son's favorite people, but sometimes I am just not in the mood to activate creature power.
I've found that some high-energy shows just aren't the best choice when my kids are already running around and wrestling like two rain forest monkeys.
Luckily, some programming seems to encourage my kids to sit and watch or just play quietly. I used to default to the same three things, but how much Winnie the Pooh, Curious George and Inside Out can we watch? I have slowly been expanding the list.
When I just need a few minutes of peace, these are my go-to shows to turn my kids from acrobat animals back into little human boys. Many of them are new, but I've also included some tried-and-true classics for you to consider. Here are a few of our family favorites on PBS Kids, Netflix and Amazon Prime Video and more.
1. Daniel Tiger's Neighborhood, PBS Kids
We love PBS Kids, and Daniel Tiger has been a favorite around here for years. Based on characters from Mister Rogers Neighborhood of Make-Believe, each episode of Daniel Tiger's Neighborhood focuses on feelings and helps guide little ones through the emotions of situations like sharing, potty training and making friends. The songs are short and catchy, and the characters speak gently. We stream this through our Prime Video service, but you can catch it live on PBS for free.
2. Molly of Denali, PBS Kids
Molly of Denali premiered on PBS Kids over the summer. It's about Molly, an animated a 10-year-old Alaskan native. She and her friends go on educational adventures across Alaska learning about the wildlife, terrain, and history of the native people. Each show features a live-action segment, too. Molly is upbeat, but so engaging and informative that the kids want to sit and pay attention.
3. Puffin Rock, Netflix
Puffin Rock is narrated by Chris O'Dowd, and it's just adorable. It's a fictional account of the lives of puffins on Puffin Island, a real island off the Northern Irish coast. Puffin siblings Oona and Baba explore and adventure together. Even the theme song is sung in a gentle, almost hushed tone. A movie is in the works, so after they fall in love with the series, kids can look forward to a new adventure with their favorite pufflings.
4. Llama Llama, Netflix
Based on the beloved book series created by the late Anna Dewdney, Llama Llama shadows Llama and his friends as they follow their curiosities and learn important lessons. Jennifer Garner is wonderful as Mama Llama, and watching the show renewed my kids' interest in the books too. We read them regularly since they fell in love with the series.
5. Motown Magic, Netflix
In Motown Magic, a little boy named Ben introduces classic Motown music to kids using his magic paintbrush and a colorful cast of friends and family. It's not especially quiet, but it's not grating and annoying like some other kid shows. (I'm looking at you, Caillou.) I can get on board with a little energy if it means my kids are learning the hits of Motown legends like Stevie Wonder and Smokey Robinson. My kids love this show by the creator of Beat Bugs! (If you don't know, Beat Bugs is a Netflix show based on Beatles hits, and you should totally try that one, too!)
6. Tumble Leaf, Amazon Prime Video
This stop-motion Prime Original follows Fig the Fox and his adorable friends on the island of Tumble Leaf. Fig lives in an abandoned shipwreck with his caterpillar friend, Stick. He teaches viewers super simple science and mechanics through trial and error as he explores his world and figures out how things work. The lessons are subtle; this isn't Bill Nye. Tumble Leaf is mesmerizing and lovely to watch.
7. If You Give A Mouse A Cookie, Amazon Prime Video
This one is based on the incredibly popular book series written by Laura Numeroff and illustrated by Felicia Bond. If You Give A Mouse A Cookie follows Oliver, Mouse and friends as they learn lessons about cause and effect. They do this via silly, harmless snowballing situations, dreamed up by a well-meaning Mouse. My kids love this show as much as I have always loved the books, and like Llama Llama, it has made them love the books even more.
8. Your Childhood Classics
If you have a Prime Video subscription, it offers access to original Mister Roger's Neighborhood and Reading Rainbow episodes. Your kids can fall in love with the shows that shaped you. We added a Noggin subscription to our plan, which allowed me to introduce them to older preschool shows like Wonder Pets and Gullah-Gullah Island.
9. Esme and Roy, HBO
Esme and Roy is show by Sesame Workshop. It features a girl named Esme and her monster friend Roy. They're "monster sitters." They help the little monsters in their town through big challenges using mindfulness practices, like glitter jar self-regulation, self-talk and belly breathing. If you have access to HBO programming, give Esme and Roy a shot.
https://www.instagram.com/p/BpCPr6DANdV/
10. Movie Bonus: Abominable
We are counting down the weeks until Abominable is available to watch at home. It became an instant favorite. Abominable is about a young Chinese girl named Yi. She finds a magical snow creature and decides, along with her friends, to help him get home. More than that, it's about Yi's journey through grief as she mourns the recent death of her father. The animation is gorgeous, and the story is beautiful. It will be a favorite here for years to come.
I get frustrated sometimes because there's a lot of stupid crap on TV for kids. But I love that there is so much goodness available, too! If you dig through the layers of loud, shouty, and annoying, you can find some children's programming gems that will enrich your kids' minds and give you a few minutes peace.
Everybody wins.
This article was originally published on