Tennessee Just Made Community College Free For ALL Adults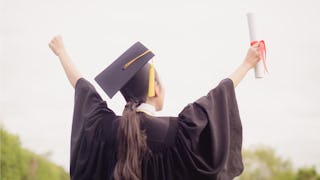 Image via Shutterstock
Tennessee is first state in the nation to offer tuition-free college to all residents
If education is the passport to our future, then take us to Tennessee. The state just became the first in the nation to offer tuition-free college to nearly all of its adult residents.
State lawmakers gave approval this week to expand the Tennessee Promise program that started in 2014. It originally made tuition and fees free for recent high school graduates enrolled in a community college or technical school. Now the program will allow adults, 24 years of age or older, who don't already have an associate's or bachelor's degree to go for free too. They can start as early as the 2018 fall semester.
Republican Governor Bill Haslam is expected to sign the bill into law soon. He believes in educating people and the positive impact it can have collectively.
"In Tennessee, we've determined that the best jobs plan is an education plan. If we want to have jobs ready for Tennesseans, we have to make sure that Tennesseans are ready for jobs, and there is no smarter investment than increasing access to high quality education," Governor Haslam said in a statement. "Just as we did with Tennessee Promise, we're making a clear statement to families: wherever you fall on life's path, education beyond high school is critical to the Tennessee we can be."
Gov. Haslam's goal in Tennessee is to increase the number of residents with a college education to 55% by 2025. To be eligible for the expansions of the Promise program, students must have been a state resident for at least a year before applying, maintain a 2.0 GPA, enroll in enough classes to be a part-time student, and complete the Free Application for Federal Student Aid.
Other states have enacted similar programs for recent high school grads, but never before has a state done it for all adults (regardless of educational background). San Francisco will join them in offering all adults free community college this fall, according to CNN. Lawmakers in Rhode Island are also considering a similar proposal.
Studies suggest that being a degree holder of any kind lowers your chances of unemployment and results in higher income earnings. Just look at the latest data compiled by the United States Labor Department. A person's income is directly related to the higher education they have. Simply stated, the more degrees you earn, the more dough you can make.
Think about all of the parents who perhaps never attended college, never finished, or who have wanted to make a career change, but are deterred because of the cost. It's no secret that college tuition everywhere is going up, making higher learning out of reach for so many. What Tennessee is doing is breaking down economic barriers and giving people access to a brighter future for themselves, their families, and the collective community.
It only makes sense for the betterment of the country to invest in education on all levels. These people will have the new ideas and innovations that propel us forward as a country, regardless of where they are in life right now. We hope the free-tuition trend catches on in the rest of the country sooner rather than later.