Here's What 'Tent City' For Separated Immigrant Children Looks Like
by Thea Glassman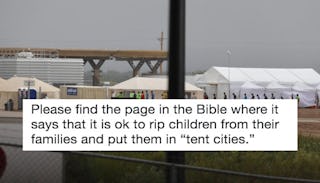 Image via Twitter/Texas Tribune/Ryan Knight
First photos of new "tent cities" for immigrant children have been released
The bad news just keeps getting worse. A "tent city" has been built for immigrant children who've been separated from their parents, and it's currently up and running outside of El Paso, Texas. Some government officials are speaking out loudly against these makeshift shelters in hopes the Trump administration will actually listen.
As of Friday, 100 children were shuttled to this so-called "tent city," which was built to accommodate 360 people and, according to The U.S. Department of Health and Human Services, has the "ability to expand or contract" as needed.
Texas Rep. César Blanco told The Texas Tribune that local government officials had no idea the tents would be set up so quickly.
"There is clearly a lack of transparency, and clearly this administration is in a hurry to set these tent cities up without any input from the local community, without any input from any kind of third party," Blanco said. He noted that he wants his department to inspect the shelter immediately.
"We don't want to go two weeks from now," he said "It's 100 degrees out, [they're] out there in tents, so we want to make sure we have access as soon as possible."
State Sen. José Rodríguez added: "This week we're experiencing 100- to 105-degree weather.You are talking about placing children in tents in the desert regions of West Texas? It is totally inhumane and it is outrageous. It should be condemned by anyone who has a moral sense of responsibility."
U.S. Rep. Will Hurd got a firsthand tour of the new makeshift shelter, and expressed some deep concerns to the El Paso Times. He noted that federal officials are considering shoving 4,000 beds onto the site which, he said, is "absolutely nuts."
"At the end of the day, in the land of the free and the home of the brave, we should not be using children as deterrents when it comes to our broken immigration system," Hurd said.
It doesn't look like this awful, inhumane family separation is coming to an end anytime soon. In the past six weeks alone, almost 2,000 immigration children have been separated from their parents because of the Trump administration "zero tolerance" border crossing policy.
Meanwhile, the general public is horrified by what's happening.
For U.S. Rep. Will Hurd, this isn't about politics anymore. It's much, much more than that. "This isn't a Republican or a Democrat issue," Hurd said. "This is about a bad policy folks have created."