Terry Crews Steps In When Bank Denies Debit Card With His Face On It
by Valerie Williams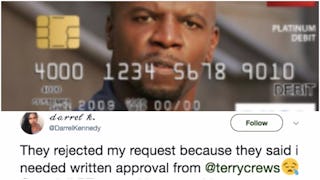 Image via Twitter/Darrel Kennedy
Terry Crews came to the rescue when her bank said no
We're living in the future, and though we don't have flying cars (yet) or the ability to eat endless pizza and not gain weight (please let this be a thing someday), we can put pretty much whatever photo we want on our debit cards. One big fan of actor and former football player Terry Crews decided to put his face on hers, but first, she needed his permission.
And much to the internet's delight, he came through with flying colors.
If you haven't heard of Terry Crews, you might want to do a little reading — the guy is basically amazing. He recently shared his story of being sexually assaulted by a powerful Hollywood figure in an effort to support women in the wake of the Weinstein accusations. And now, he's being just plain awesome to Darrel Kennedy, a Twitter user trying to convince her bank to let her put the Brooklyn Nine-Nine star's photo on her debit card.
Which is the best idea ever if you want to save money, by the way. Look at his disapproving face from a clip of him as Julius, the super frugal dad, on the show Everybody Loves Chris. I'm already putting down that eye shadow palate from Sephora that I absolutely do not need.
Kennedy announced her plans on Twitter last week, but was thwarted a few days later by Wells Fargo.
So she did the only thing she could do — use the power of the internet to track down the actor and get his permission to use his mug on her card.
And because he's a wonderful human with a great sense of humor, he gave it.
She took Crews' tweet straight to her bank to see what would happen.
https://twitter.com/jetpack/status/926205411518119936
Crews crossed his fingers for her. Emoji-style. Honestly, could he be more lovable?
It totally worked.
https://twitter.com/jetpack/status/926211857873907712
Crews was extremely happy to hear the news if this series of emojis is any indication.
And Twitter was absolutely loving the entire story.
We hope this debit card with Crews' kinda judgy gaze is enough to help Kennedy make wise financial choices, and we have reason to believe it should. After all, the actor himself employs the very same method to keep his own spending in check.
We also hope major banks are ready for more requests like this — we know Crews is all about it.
This article was originally published on