Tess Holliday's 'Cosmo' Cover Proves We Need More Body Diversity In Magazines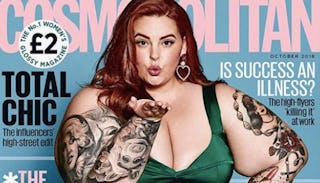 Image via Instagram/Tess Holliday
Tess Holliday is officially a 'Cosmo girl' and it's everything
Tess Holliday landed on the October cover of Cosmo UK, and announced the news on her Instagram account in an emotional post. Basically, this plus-size model and body positivity advocate is taking over the world one magazine cover at a time — and we are so here for it.
"Phew, I'm literally a COSMO GIRL!" Holliday wrote in her caption. "Can't believe I'm saying that!!"
https://www.instagram.com/p/BnEMllvBVXX/?hl=en&taken-by=tessholliday
This cover marks Holliday's second huge magazine cover of the year — she landed on the front of SELF earlier this summer. What's so amazing about a woman like Tess Holliday being celebrated and highlighted is that, in a way, it feels like we're all being celebrated. Being "plus-sized" — which is anything above a 14 in the U.S. — is finally being recognized for what it actually is — being "Average Woman Sized."
"If I saw a body like mine on this magazine when I was a young girl, it would have changed my life and hope this does that for some of y'all." She hits the nail on the head in her caption — representation matters in every possible way.
https://www.instagram.com/p/BnAJVBnBuwL/?hl=en&taken-by=tessholliday
Holliday's social media campaign, "#EffYourBeautyStandards," has been used over 3.2 million times by people all over the world. She's more than a model, she's a powerful influencer and has the capability to open minds by educating people about body confidence.
She tells Cosmopolitan UK she created the hashtag out of frustration. "I was angry and sad that people kept commenting on my pictures saying, 'You're too fat to wear that!' or 'Cover up! No one wants to see that!'" she says. "And then one night I was lying in bed and thought, 'F*ck that!' So I posted an image with four photographs of myself wearing things that fat women are often told we 'can't wear', and encouraged others to do the same."
https://www.instagram.com/p/BjxnRImBB2s/?hl=en&taken-by=tessholliday
She says she, like literally all of us, gained a substantial amount of weight while pregnant with her son, and while she says she doesn't wish she was her old size, she does wish she loved herself more when she was 120 pounds lighter.
"I'm at the heaviest I've ever been in my life now," she says. "And it took me being the heaviest to finally love myself."
This article was originally published on