Tess Holliday Dunks On Idiots Accusing Her Of Faking Her Eating Disorder
by Erica Gerald Mason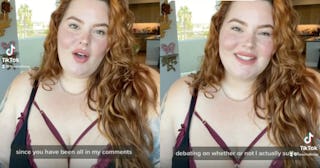 Instagram
The activist took to Instagram to clap back at people who dared to diagnose her through the social media platform
(Trigger warning – discussion of disordered eating). Why do people have to be such jerks? This is not a hypothetical question. Why do some strangers feel the need to become armchair physicians and offer a completely unasked for diagnosis of someone they've never met? Tell us. We'd love to know.
Tess Holliday – model, activist, blogger, makeup artist, and all around badass – doesn't owe anyone an explanation about… well… anything. But Holliday chose to take a break from being a goddamn goddess to school some fools on the internet.
https://www.instagram.com/p/CUvUU3zlK9v/
"Why it's not cool to question someone's ED," Holliday begins the caption to her video.
"I get asked this question hundreds of times a day on all social media platforms, and y'all have to stop. A large part of why I have an eating disorder is due to being a public figure and having my body scrutinized for the last decade publicly & enough is enough."
Holliday then asks her readers to pause for a moment. "Let me heal. Maybe just ask yourself before you decide to question someone's health, lifestyle choices, etc., "What am I gaining by doing this?" or maybe more appropriately, 'Why do I need to be a total jerk right now?' "
The caption closes with a major truth bomb: "YOU CANNOT TELL SOMEONES HEALTH BY LOOKING AT THEM. Enough."
Holliday often becomes a target for those who think anyone who looks like her has no business loving themselves.
https://www.instagram.com/p/CUoGuvjJZAW/
For those looking for a place to celebrate all forms of beauty, Holliday created the Instagram page Eff Your Beauty Standards, which probably pisses off the same people who tried to come for Holliday.
The profile also acknowledges how difficult it can be for some to embrace themselves, exactly as they are.
If you are in a crisis and need help immediately, you can text "NEDA" (which stands for the National Eating Disorders Association) to 741741. You'll be connected with a trained volunteer at Crisis Text Line. The Crisis Text Line offers callers free, 24/7 support via text message to anyone who is struggling with mental health, including eating disorders, and are experiencing crisis situations. You can also visit NEDA for more information about how to seek or offer help.