Tess Holliday Can't Share Pics With Her Kids Without Idiots Criticizing Her Weight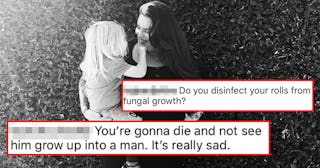 Tess Holiday/Instagram
Tess Holliday shuts down trolls and serves up some much-needed perspective about motherhood in the process
In sharing her response to some truly awful comments left on her Instagram photos, Tess Holliday is sending out an important reminder to moms everywhere. That message? Being a good mom isn't conditional on your size. It's conditional on being a good mom. While that may seem like a pretty obvious observation, there are apparently a few haters out there who need a refresher — and, because those haters are out there spreading harmful rhetoric, there might be some mamas out there who need a reminder, too.
Holliday took to Instagram late last week to share what any decent human being would undoubtedly find to be a heartwarming moment: a photo of her with her wildly adorable youngest son Bowie. Spoiler alert, though, the world is not made entirely of decent human beings. In addition to the mother-son snapshot, Holliday included a carousel of shame-y comments people have left at various times on her family photos. The first read (and prepare to feel your blood boil): "You're gonna die and not see him grow up into a man. It's really sad."
https://www.instagram.com/p/B5eZfPbnssg/
Another insinuated that Holliday must not love her son enough because of her size, seething, "Your child should be more than enough reason to start taking care of yourself." Others were just generally hateful, like one commenter who asked, "Do you disinfect your rolls from fungal growth?"
While Holliday surely could have lobbed a few choice words the commenters' way, she took the high road instead. "Imagine just wanting to be able to share photos of my little one and instead, being told I'm unfit to be his mom because of my size," she wrote, pointing out, "None of us are promised tomorrow, regardless of our weight, and I can guarantee that if I were to die tomorrow, both of my boys would know how loved they were and what a badass their mom was."
The model and body positivity advocate added the hashtag, "effyourbeautystandards" — a campaign she created to help women of all shapes and sizes embrace their bodies.
On Monday, Holliday followed up her original post with a short but oh-so-sweet video of her and Bowie. "Tonight we were laying in bed talking before Bowie went to sleep, & he touched my stomach & said 'I like your belly.' He says this often & it makes me smile each time. Yea, my stomach is 'squishy' & to my little one, he doesn't care, he loves it," she wrote. "So just a gentle reminder from me & my toddler that soft tummy's are just as valid and beautiful."
https://www.instagram.com/p/B5j4gC_H844/
There are a few takeaways from Holliday's social media week to unpack.
First of all, it's tempting to wish the commenters a life of exile for (a) body-shaming another person, (b) conflating body shape with bad parenting, and (c) taking aim at photos Holliday posts of her family. But, you know, hurt people hurt people. I'm going to choose to feel sorry for the trolls instead, because someone or something in their life clearly did a number on them. Pain can be a breeding ground for toxicity.
But that doesn't mean they're entirely off the hook for their bad behavior, either. Hopefully, they'll come to realize the error of their ways. Ideally, they'll discover the body-shaming rhetoric they're spewing is the byproduct of insidious semantics and diet culture. Women get enough of that from, well, everywhere. We don't need it hurled at us in comment feeds, particularly by each other (some of the commenters' handles seem to suggest they're women, too).
The silver lining, naturally, is that we have women like Holliday who keep reminding us how important self-love is. Whether you're a mama learning to accept your post-baby body or otherwise, you have to give yourself grace. Sadly, as the shame directed toward Holliday shows, you can't always expect that same grace to be given by others. But you can be an example of what it looks like.
This article was originally published on