Tess Holliday Shares Powerful Post About Loving Your Body -- No Matter What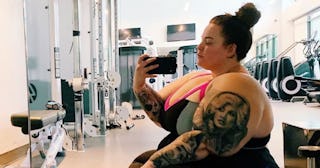 Tess Holliday/Instagram
Tess Holliday reminds us self-love is the most important thing
Tess Holiday is a fiercely outspoken model and author who describes herself on Instagram as "Plus Model, Wife, Mom, Feminist." Her latest post about body positivity is a testament to her commitment to remind others to love the bodies we're in and treat ourselves with love and kindness.
"I snapped this yesterday after my workout because I felt cute! I never share these photos to prove anything, but it's a conscious choice to share the ways I move my body because it de-stigmatizes the notion that plus size folks aren't healthy/active," Holiday wrote next to an adorable gym selfie. But she was quick to point out that not everyone is able to move their bodies, and being "healthy" by going to the gym shouldn't be a standard for self-love.
https://www.instagram.com/p/B1rE-EDHPI8/
She pointed out that they are some people who can't workout and questioned, "Are we only granting self love these days to those that are perceived as 'healthy?'" Holiday said she's often told to speak about a person's physical health but what's more important is how we love ourselves.
https://www.instagram.com/p/B1OqTaOHof3/
"I will continue to show that loving your body in whatever state, is vital. You can work out all you want, but if you hate yourself, no amount of weight loss will fix that," she continued. "I say that as someone who in the past, has treated my body horribly. I said unkind things to it, and I allowed people who were closest to me to treat me as less than because of my size."
The model has spoken out in the past, reclaiming the word "fat," accepting our post-baby body, and has shared her struggles with mental health, all in an attempt to connect with others and let her fans know we're are not alone. Self-love doesn't mean every day is perfect or that there won't be setbacks but reminding us why the journey is so important.
https://www.instagram.com/p/Bzs9X-GnZTd/
She also shared some of the awful, hurtful messages she receives on a daily basis which only serve to fuel her fire. One such message says, "You're nasty. I feel bad for your husband who has to fuck you. I bet he cheats on you." Imagine being filled with so much hate that you'd take time out of your day to insult a total stranger.
https://www.instagram.com/p/ByvyQ-UHsbE/
She also shared one of the more supportive notes she's received.
Holliday admitted she's struggled in the past, but reminds us that "this kind of self love doesn't happen overnight. If you take anything away from this be kind, always be the bigger person (in my case that's easy!), treat others with compassion & realize that you deserve to love yourself as is."
Amen to that.