Tess Holliday's Post About Wearing A Swimsuit Is A Must-Read For Moms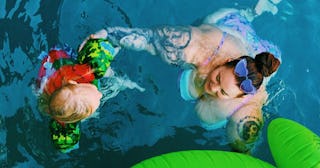 Tess Holiday/Instagram
Tess Holliday sheds light on why having fun in the pool with your kids shouldn't depend on your size
Summertime, while amazing in many ways, can also be a trigger point for those of us who struggle with body image. Shorts, tank tops, bathing suits, sundresses, and being active in the heat are all things that can make us feel self-conscious as we show more skin. Model and body image inspiration Tess Holliday is shedding light on how she gets out of her head and into her bathing suit to have fun with her youngest son, Bowie.
"Bowie will never know what it's like to have a mom who doesn't love her body," she writes in the caption for her latest Instagram post. "Mind-blowing huh?"
https://www.instagram.com/p/B0Rr0_PHaNT/
She explains that her own body image has been on her mind more often lately because it's summer and every activity is aimed for outdoors. Plus, women have the "added pressure" of being susceptible to diet culture and toxic language in swimsuit advertising — when, in reality, all bodies are beach bodies.
"I've been a Mom for thirteen years, and early on with my oldest son, there were countless moments I missed out on," she writes. "Why? Because I was too afraid to put a bathing suit on. Being seen in public somewhere that I couldn't hide my fat body in a cardigan was my worst nightmare."
Related: These 9 Bestselling Swimsuits Have A Cult Following On Amazon — And They're All Under $30
Many of us can likely relate to this exact struggle. Every summer, there are countless viral social media posts about "putting on the swimsuit" and making memories with our children. It can feel very empowering to say "to hell with your beauty standards" and just slap on a swimsuit and frolic with our kids at the beach or pool. Your kids get to grow up seeing a happy, confident mom and everyone gets to have lasting snippets of time preserved in our minds forever.
But that doesn't mean it's easy to do. Far from it. Holliday laments the time and memories she missed out on with her eldest son, Rylee.
https://www.instagram.com/p/Bz_lxfunVNL/
"I don't have any photos of me & Rylee at the beach or playing in the pool because I didn't own a bathing suit from the ages of 13-24," she says. "Even though it took me longer than I wished, I have amazing memories like this with Bowie and made up for lost time with my oldest too."
Related: The Coolest Rash Guards For Parents Who Don't Want To Bare It All (Or Get Sunburn)
Her post is very strongly resonating with moms everywhere, who have chimed in with comments about their own experiences.
What's great about Holliday's words here is that she's not martyring herself by shaming other women who are still struggling to do what she's now able to do. And listen, there isn't a mom alive who wouldn't rather sit poolside and read an Elin Hilderbrand novel while the kids splash and play to their heart's content. If your kids are old enough to do that, then by God you've earned that beach book and time alone.
https://www.instagram.com/p/ByLKAoInqap/
But what Holliday is saying is that even if it's hard, even if it takes you a long time, showing your children your body deserves a place in the sunshine just like anyone else's is no small triumph — for your little ones and for you, too.
"Don't let fear keep you from enjoying your life, you deserve beautiful experiences and beautiful photographs to remember them by! #effyourbeautystandards #beachbody"
This article was originally published on