Testing Sex Toys Is An Actual Paying Job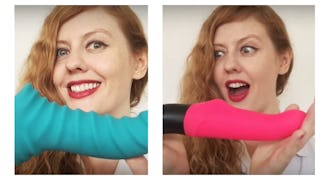 Venus O'Hara / YouTube
Do you hate your job? Do you feel like, if you have to listen to Cindy take credit for all the hard work you've done for one more second, you will hand-deliver her ass to the local Taco Bell and make her scrub the bathroom from floor to ceiling? Do you dream of different ways to make a living while lying in bed, watching some television, and creaming your pie like no one is watching? (Don't tell me that's just me.)
RELATED: The Steamiest Free Literotica-Style Online Erotica We Can Find
Well, guess what? Getting paid to test sex toys for your tickle trunk is an actual job. Like with a real paycheck. Do they get benefits? Who cares, because nonstop orgasms is benefit enough.
Can you imagine? What a time to be alive.
Don't believe me? Well, check this out: Venus O'Hara has been testing out sex toys since 2013 and is making a living out of it. She now has her own You Tube channel with almost 4,000 followers. She said in an article for the Guardian, "Lying on my unmade bed and having orgasms is an obvious perk of the job, but it's a very small part of the process."
Yes, Virginia, there really is a fucking Santa Claus.
So, yeah, you have to do actual work and stay pretty damn organized, but it's worth it because you are getting paid to have orgasms. Hello.
Right about now you are probably either making an exit plan from your current job to a more, shall we say, stimulating career, or green with envy and pissed the hell off that life isn't fair and some people have all the luck. I'm with you.
But O'Hara explains she isn't just doing this for the sake of frosting her own cake; she also hopes to "raise orgasmic awareness among woman." Orgasms don't just have health benefits like lifting your moods and helping you sleep better, but O'Hara knows firsthand how stimulating yourself can have positive effects on your self-confidence too. She's spreading the word by spreading her legs and trying out some mind-blowing toys.
I don't know about you, but I want in on this gig. Or should I say, I want some toys to get in my gig and make it rain (in more ways than one) up in here?
By sharing her videos and experiences, O'Hara is giving others the confidence to dabble in sex-toy play themselves."I've met several women who have been inspired to buy their first sex toy after reading one of my reviews," she says.
Slow clap for O'Hara. The world needs more women who aren't afraid to get real and have some honest talk about getting it on with yourself. It can be an empowering, uplifting experience, and we don't have to shy away from the subject.
And if you think a gig like this is too good to be true, think again. In August, the New York Post published a story on LoveWoo, a London-based sex toy company which was looking for a sex toy tester. It was a full-time job, allowing you to work two days from home, and spend three days in the office, and get paid $36,000 a year.
So if you're looking for a much needed change in your life, consider starting a blog where you talk about all things sexy. You never know if companies will start reaching out to you and send you their treats (which was how O'Hara got her start).
I mean, it makes sense. Someone has to test these fuckers out before they make it to market, and every product needs a review, right? It's a deliciously dirty job, but someone has to do it. Why can't it be you?
This article was originally published on