Texas A&M Coaches Try To Explain Football To Our Little Lady Brains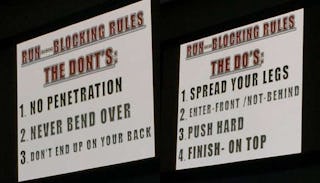 Images via Twitter.
Two coaches who gave Texas A&M football presentation suspended
The Texas A&M football program recently held a presentation for women that cost $80 per person and was a sexist shitshow.
Since women's tiny brains can't grasp the difficult concepts of football, the school held a "Chalk Talk For Women" hosted by assistant coaches Jim Turner and Jeff Banks. The pair of men who are clearly very tuned into the needs of ladies changed the school's fight song lyrics so us gals could relate, the Washington Post reported. Here are some highlights from their version of "Aggie War Hymn" …
"We are Aggie women. We are filled with estrogen." All that estrogen is what keeps you so dumb about sports, ladies. "We are putting down our dish towels. And taking off our gloves." Because in the year 2016 with a female presidential candidate any respectable woman is doing one thing and one thing only – cleaning.
Lest you forget what your primary job is as a female human here are a few more lines to remind you. "No more Lysol or Cascade. We want to score Touchdowns. And walk in the parade." Naturally, us ladies can't walk in parades and clean. Such demanding multi-tasking is better left for our big, strong man friends.
As if that wasn't enough to piss off a room full of women, our bro-hosts made it so, so much worse with various slides explaining football in super sexual ways. As you can see in the photo above, ladies couldn't possibly understand what blocking means unless you break it down with a rapey vibe.
"Get erect. Stay erect. Bang him hard," reads the next brilliant explanation. Really? Two adults wrote and read through these slides that they knew they'd be presenting and thought, "yes, they'll definitely appreciate these."
As someone who always falls asleep while watching football and could probably learn a lot from a legitimate presentation on the sport, these slides have taught me nothing.
"Texas A&M Athletics decides that this is cute and worthy of broadcasting at last night's Chalk Talk," Tonia Dousay shared on Facebook along with photos of some of the offensive slides. She attended the event and experienced this monumental disaster live. "I'm so disappointed. I'm not sad. I'm angry." As were a good portion of the other ladies in attendance, according to sports reporter Anwar Richardson.
Don't worry, though, because the coaches were suspended without pay for two weeks. They're also going to do two weeks of community service. Here's a better idea, since they work for a college enroll them in a few of Texas A&M's Women and Gender Studies classes. There are quite a few good ones. We'd rather these out-of-touch guys learn something than sit at home reading comments about their epic failure online.
This article was originally published on