Parents Share Struggles To Keep Families Warm During Dangerous Texas Freeze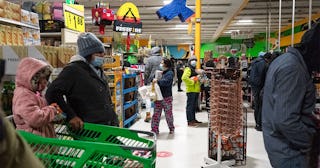 Go Nakamura/Getty
Texans share stories of freezing cold temps and their attempts to protect their kids
For the last several days, more than 3 million Texans went without power, and almost as many were without water as freezing cold pipes burst in homes across the state. As Texans struggle to warm their homes and provide food for their families, many are taking to social media to sharing how bad it's gotten as parents scramble to keep their children warm.
Just for reference, it's so cold in Texas that for the limited households with running water… the faucets are producing icicles — not water.
Most of Texas is affected by the cold weather and for parents, it's even harder as they struggle to provide for their families. Since Monday, millions of families have gone without power, water, and fridges full of now-spoiled food
"Being without electricity for over 24 hours and having 2 kids is horrible in #Texas. My 2 kids both woke up sick even though I put 3 layers on them and 4 blankets to sleep. These power outages are unacceptable. Do better," wrote one frustrated mom on Twitter.
One family even had to burn their kid's wooden domino set to provide fuel for the fire.
There are stories of parents staying awake all night just to keep stoking the fire, with one dad sharing that despite his efforts, the house was still 48F.
Many are doing what they can and are still freezing cold.
One dad shared the horrifying story of having to drive his kid to the ER during the storm, across frozen streets, only to learn that even the hospital was out of water.
CNN reports that by Thursday, February 18, 2021 power outages were starting to improve, but just barely, as the ongoing cold and storm is expected to cause rotating outages over the next couple of days. Since last Thursday, 16 Texans have died due to the extreme weather. Also, nearly 7 million Texans were under boil-water notices, which means that Texans aren't advised to consume any water without boiling it first — only problem is, most don't have water or the water has frozen over or there's no power to boil it.
For families with the privilege to stay in a hotel, that is an option, however, most hotels in the area are already full and many hotels are reporting power loss too.
The upcoming weather report looks to provide some relief for families as the power grid gets back online, though many families still need support. Today reports that for households looking for a warming center or a place to stay, the local Red Cross is the best option.
This article was originally published on