High Schoolers Create Prosthetic Arm So Fellow Student Can Play Cello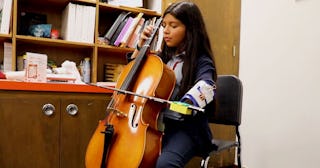 Dennis Palacios/Vimeo
A high school engineering class made a middle schooler's musical dreams come true with a prosthetic arm
When Kayla Arqueta auditioned for the orchestra at Austin Middle School in Irving, Texas, orchestra director Carly Addison knew she wanted to make it happen for the young girl. But it wasn't quite as simple as just welcoming the middle schooler to the orchestra (which Addison did) — Arqueta was born without her left hand and part of her forearm.
"Kayla came to our tryout night and she told me that she wanted to be in orchestra. She told me she wanted to play cello and I had no idea how to make that happen, but I knew I couldn't say no," Addison said in a video produced by the school district. In an interview with the school district's Insider, she added, "When you see a kid advocate for themselves, you just have to do it."
And so, Addison did what any of us in desperate need of answers would do: She Googled.
Amazingly, the orchestra director stumbled across a story of another young person much like Arqueta who'd learned to play the cello after being fitted with a prosthetic arm. Dr. Jennifer Mankoff with the Human-Computer Interaction Institute at Carnegie Mellon University designed the musical prosthetic — and, through a quick phone call to Mankoff herself, Addison determined that the blueprints for the prosthetic could be found online, free for public use. Still, they needed to be customized to fit Arqueta if this plan was going to work.
That's when Addison stumbled across another bit of serendipitous information. Fellow Austin Middle School teacher Theresa Spencer clued her in to the fact that all of the high schools in the district had 3D printers through the career and technical education department. This led Addison to reach out to Dwight Davison, the engineering teacher at Nimitz High School.
Here's where things get even more remarkable, so prepare to have your heartstrings thoroughly tugged.
Despite the fact that Mr. Davison and his engineering students hadn't really experimented with 3D printing much prior to that point, they were more than willing to take on the challenge. In total, six students signed up to work on the project. One of those students, Arianna Tovar, told KXAS that Arqueta's passion really moved her to be involved. "Band is part of my life and I have a family that I made in band, and I love all of them," she explained. "I know she could make a family out of what she wants to do and, if she has a passion, I think she should go for it."
Ultimately, Arqueta was able to do just that — thanks in no small part to Addison, Mr. Davison, Tovar and the rest of the engineering students. The class successfully designed and printed a musical prosthetic for the middle schooler. Now, Arqueta thrives with her new band "family." Gushed Addison, "When Kayla pulled on the string, it made this big beautiful cello sound, and I knew we had done it."
As for Arqueta, the experience didn't just give her the gift of music; it helped shape her entire perspective. "I learned that people are willing to help, and that it's okay to be different," she said in the school district's video. "I would like other students to know that life is challenging, but everyone is going to love you for who you are."
(We're not crying, you are.)